Dumped by girlfriend , IISC executive turns Lord Krishna cycling the message of love
Satish Kumar an Executive at Indian Institute of Science was dumped by his girlfriend.
But instead of becoming a bitter person, he decided to do something different.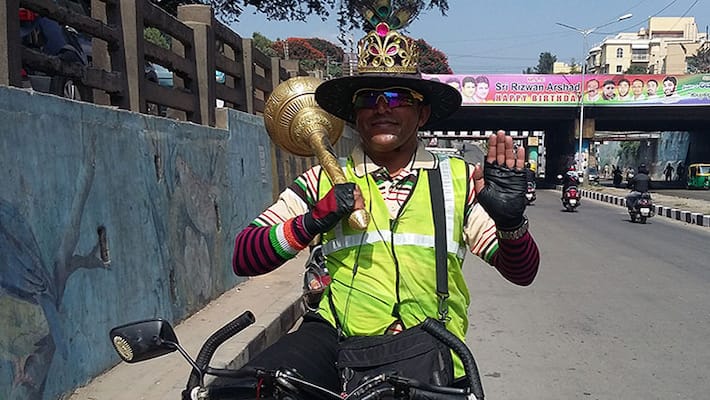 What will a person do if he or she is dumped by lover after years of being and living together. Commit suicide, get depress or do something far worse, but Satish Kumar an Executive at Indian Institute of Science who was also rejected by her lover became 'God activist'.
Satish, who is now more fondly addressed to as cycle baba or hanuman  is 40 years and  has been cycling  all to way to IISC campus from Indiranagar for the last 6 years. What is interesting is that he dresses up as Lord Krishna and holds Hanuman 'Gahda' (mace) and peddles all the way meeting and greeting people, asking them not to hate. He also doesn't hold the cycle handles unless if it is really required.
Satish who spoke to Asianet Newsable said,"I was madly in love with a girl, I had dreamed being together but she just rejected me and walked out of my life. I was hurt, I could have taken extreme step but I decide to live and took up cycling." 
Although he left his past behind but still it used to haunt him. One such day when he was cycling near a busy junction at Jayamahal he blacked out and fell on the road inches away from a speeding BMTC that could have crushed him to death.
Satish considers this fall as a blessing and said, "I would have died but some supernatural force helped, I had passed Hanuman temple on Nandidurga Road just before that fall. When I woke I realised that it was god who helped me and as a mark of respect to Hanuman I purchased a Gahda. I learnt to cycle without holding the handle even in heavy, fast-moving traffic. I raise hands up in the air and bring  them down only to apply brakes to cut down speed when the traffic slows down or comes to a dead halt at the signals," he said.
Claiming it to be a divine experience, Kumar has adorned his bicycle with trishuls and images of Lord Shiva (the Creator), Lord Hanuman (the God of strength), and Devi Lakshmi (Goddess of wealth and prosperity). 
During his ride, he also stops and interacts with people only to profess love for life parents and environment. To ensure safety he wears a radium jacket to avoid accidents during early morning and late evening hours.
Last Updated Mar 31, 2018, 7:07 PM IST