Belagavi school torched, next-door cops clueless
Kannada medium school at Bharat Nagar was set on fire by miscreants and various documents have been reduced to ashes
Some suspect that the school has been neglected by the administration thanks to the political influence of the MES\
Though school properties get damaged frequently and police station is next door, no action has been taken against anyone so far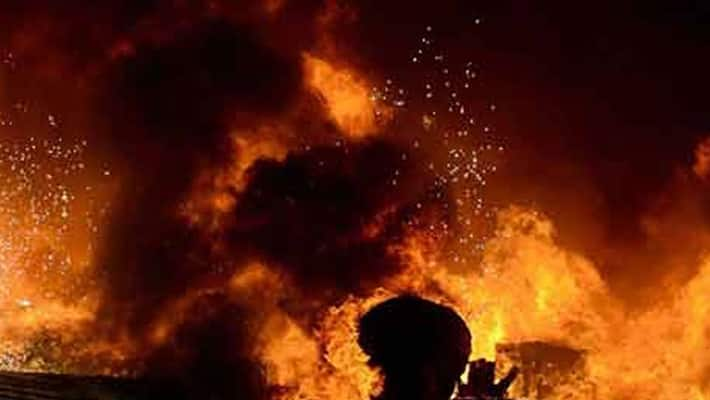 The record room of the Kannada medium school at Bharat Nagar was set on fire by unidentified miscreants and various documents - including the attendance register - have been reduced to ashes.
The police are clueless.
SY Kukanoor, Headmistress of the school, speaking to TV9, said, "Miscreants damage the school property every weekend. Either the chairs will be broken, or the table is damaged. But this time, the miscreants have set the record room of the school on fire. This is serious, and we have lodged a complaint to the police station, next to the police station."
"The fire has been set to the document room. So the records including attendance register have been destroyed. Since I took charge as the headmistress, four years ago, I have seen school property being damaged at least twice a month on Saturday and Sundays. Though we have complained much time, no one has been arrested, or no action has been taken yet," she said.
However not everything is as it meets the eye in this region. There is a strong Marathi-Kannada division in Belagavi, with the MES party demanding that the district be shifted to Maharashtra.
Some suspect that the school has been left defenceless and neglected by the administration thanks to the political influence of the MES.
Lohit Morkar, Secretary of the School, said that "Though the police have not arrested anyone even in the similar cases earlier, Kannada schools in the region are neglected. The school belongs to No 15 ward which comes under a corporator of the MES, who is a supporter of Marathi schools. So, even if anything happens to Kannada medium schools or we have any demand, we do not have an ear to listen to our problems."
"Inmates of the Nandihalli's Hostel, also administered by an MES leader, are found in the school premises frequently. Though incidents of damages have been reported earlier also no action has been taken against the miscreants so far," he said.
The incident has made the parents concerned about the safety of their children in the school.
Last Updated Mar 31, 2018, 6:35 PM IST