All these issues, you may have realised have been opposed to in some form or the other
While activism and protest is our go-to for everything we do not like, what the government needs is cooperation and solutions and not objection and agitation
Trees
Bengaluru witnessed large-scale public protest over its plans to uproot dozens of trees for the steel flyover project. This is not new. Most projects trigger protests. BBMP Deputy Conservator of Forests and Head of the Tree Committee, Appu Rao, in an interview to Deccan Herald, even mentioned that green activism was very strong in the city.
In a span of 10 days they had received around 30,000 emails from Bengaloreans on a proposal to cut trees to widen a 2.8-km road. But, he said, none of them offered a practical solution. Now, trees have to be cut - for widening of roads, the building of flyovers, the construction of commercial and residential buildings etc.
The idea that no trees can go, even as the population of Bengaluru swells daily, is ludicrous. We forget that it is not just the axe which is threatening green cover, but also the residents themselves, with their lifestyle and demands. Something has to change somewhere. 
What has been done about it?
Judging by previous experiences a.k.a the 'compensatory' plantation of trees elsewhere - nothing much has been done. Some of the saplings died, weather affected some of them and most of the replanting took place in areas away from where the trees were cut in the first place. But all this tree cutting would perhaps not be needed with Bengalureans took a bus or shared a car every now and then, 
Lakes
Bengaluru boasted of having some of the most beautiful water-bodies at one point of time. They were enough to meet the drinking water, irrigation and fishing needs of the city and kept the climate pleasant. The green cover was lustrous around these bodies, pollution was minimal and it was a productive ecosystem.
A study titled 'Wetlands: Treasures of Bangalore', headed by Professor Ramachandra T V from IISc, Bengaluru surveyed 105 lakes in the city as they were currently. It found that only four seemed to be in a good condition while 25 lakes were in a such a bad state, fully filled with solid or liquid waste, that they had little or no water.
The protests for these lakes are routine and quite plenty. 
What has been done about it?
Matters stay exactly where they were. Lakes in Bengaluru are being utilised as sewage dumps or lake beds have been encroached by nearby localities or crop fields even beyond the high water-mark area. Sometimes activists raise slogans to protect a lake - but that is all. The administration says it will look into it, meetings are held, elaborate plans are drawn and meanwhile the lakes continue to rot.
On the flip side, no one seems to have a single clue how to stop a lake from 'vanishing' within the city. 
Garbage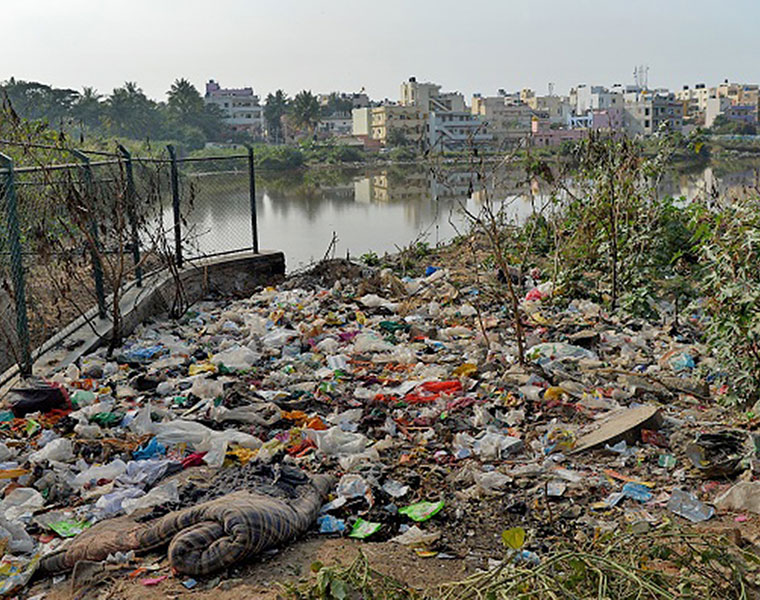 In Bengaluru there is more garbage than streets, by the looks of it. Due to the unscientific disposal of waste, pollution levels have risen to unprecedented levels in the city.  You have industrial, vehicular pollution, improper waste disposal management as the lead causes. Not to forget dumped, open garbage leads to spread of diseases and clusters of stray dogs. And despite all of that - Only 36 per cent of Bengaluru households segregate garbage.
What has been done about it?
Trains to dump waste to another part of the city but no permanent solution in sight. Waste segregation advocated since years but no one complies with the BBMP guidelines but will be the first to raise fingers on the stink.
Small concentrated efforts to turn garbage into compost, segregation are heard of time and again apart from that nothing concrete here as well.
Dogs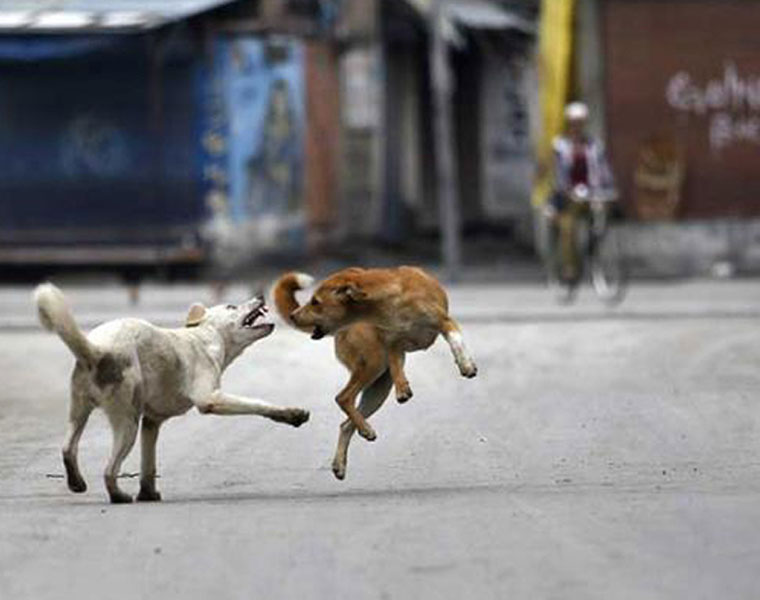 The symbol of the stray dog  menace was  Ethiopian marathon runner, Mulle Wasihun being attacked by a stray dog during the TCS World 10K marathon in the city, went viral as the world media picked it up.
Now the BBMP has set down rules for keeping dogs as pets at home but when it comes to stray dogs, it is still lacking. Every time BBMP comes with something (practical or impractical?) there is opposition. Sometimes dog lovers say no, sometimes activists say no, but has there been a solution? NO.
What has been done about it?
Animal activists and residents alike have raised a hue and cry about need to control the stray dog menace. The BBMP advocated the ABC programme and neutering but NGOs and animal activists do not like the way it is happening.
The dogs are anyways being released back into different parts of the city. Talk is on for additional pounds, but that is just on paper. Nothing happening here also.
All these issues, you may have realised have been opposed to in some form or the other. No agency or government body has been able to come with a solution to these four problems alone. There is a whole other list which includes traffic problems, congestion, scarcity of water etc.
While activism and protest is our go-to for everything we do not like, what the government needs is cooperation and solutions and not objection and agitation. Please also bear in mind that in none of these places am I saying that the government is right or the people are wrong. If you notice, the blame is to be shared.