'The Challenge': Trailer of first feature film shot in space released | WATCH
The first theatrical movie to be shot above Earth's atmosphere, The Challenge, released its trailer. Central Partnership, The Challenge's distributor, released its official, non-subtitled trailer for the Russian space movie filmed on the International Space Station.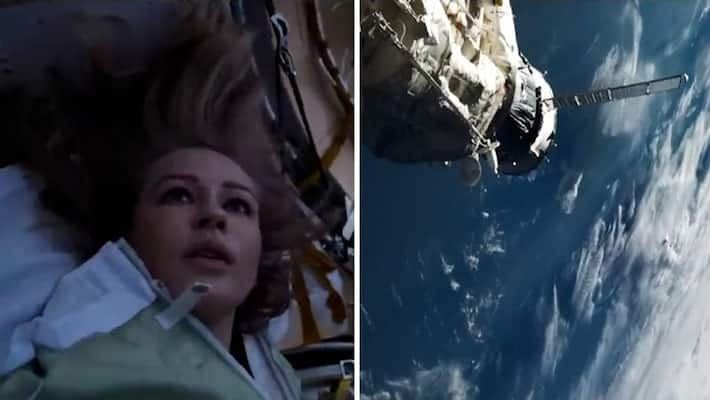 While the rest of the world waits for Tom Cruise's rumoured space movie endeavour, Russia has already completed it. The scenes in the movie "The Challenge" trailer, which was shot aboard the International Space Station, are more realistic than ever. A portion of the feature film, which was directed by Klim Shipenko, was filmed on the Space Station in October 2021.
In 2021, the Soyuz MS-18 ship sent Russian astronaut Oleg Novitskiy of Roscosmos, 37-year-old actress Yulia Peresild, and producer-director Klim Shipenko to the International Space Station. After filming the sequences, they remained in the flying laboratory for almost 12 days before departing for Earth.
The crew was launched from the Baikonur cosmodrome in the steppes of Kazakhstan, a former Soviet republic in Central Asia. The main character of the Russian film is a doctor who is ordered to go to the space station in order to save the life of a cosmonaut. Yulia Peresild plays the doctor in the film. In the movie, there will also be members of the Cosmonaut Crew.
Additionally, a video team captured their landing for use in the movie. Director Klim Shipenko declared that he would be open to producing a film on Mars or the moon when they returned from space. The Russian filmmaker said that his 12-day stay on the aerial outpost altered his perceptions of the potential of filmmaking.
The Russian crew beat plans by Mission Impossible star Tom Cruise to shoot the first film in space in a collaboration with NASA and SpaceX.
Last Updated Jan 3, 2023, 10:35 AM IST