A professor, cancer survivor, billionaire & Air Force vet: Check out who will be on next SpaceX mission
The four passengers represent the opening up of space to everyone, hence the mission's name: Inspiration4.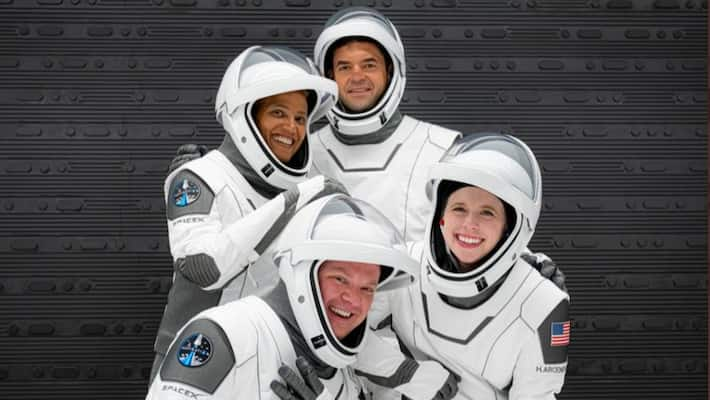 SpaceX on Wednesday will launch a crew of pure amateurs into space for the first time without a professional astronaut on board. The four passengers represent the opening up of space to everyone, hence the mission's name: Inspiration4.
Jared Isaacman, a billionaire, is driving the initiative. He was the one who chartered the mission on his dime, inviting three unknown persons to accompany him through an unusual selection procedure. Each seat has a different value ascribed to it.
Jared Isaacman (Billionaire pilot) 
Isaacman is in charge of the mission. The 38-year-old American is the creator and CEO of Shift4 Payments, which provides a solution for shops and restaurants to handle bank card transactions. He built it when he was 16 years old in the basement of his family's home. He is an avid flyer who has flown across the world in a light jet and is trained to fly numerous military aircraft. Draken International, a firm that provides US Air Force pilots training, was formed by him in 2012.
He is married and the father of two kids who have always been interested in space exploration. Richard Garriott, one of the first private travellers to visit the International Space Station, took launched atop a Russian rocket in Kazakhstan in 2008. Following that encounter, he contacted SpaceX. His seat symbolises "leadership."
Hayley Arceneaux (Cancer survivor)
As a kid, Arceneaux was treated for bone cancer at St. Jude's Hospital in Memphis, Tennessee, where Jared Isaacman organised a fundraising. She now works as a physician assistant there. She will be the youngest American to be put into orbit around the Earth, as well as the first person with a prosthesis to do so, at the age of 29. She will serve as the mission's medical director. Her seat symbolises "hope."
Sian Proctor (Professor and astronaut candidate)
Proctor, 51, is a geology professor at a tiny college in Arizona. Her father, who was born in Guam, worked at NASA during the Apollo missions. She took part in a Mars simulation exercise in Hawaii and applied to NASA twice to become an astronaut. In 2009, she was one of a few dozen finalists chosen from a pool of over 3,500 applicants. She will be the fourth African-American woman in space. She will be the mission's pilot, aiding the commander. She earned her seat, which signifies "prosperity," by establishing an internet sales site connected to space as part of Isaacman's company's entrepreneurship challenge.
Also Read | 'Unreleased song, ukulele, TIME magazine cover': Here's everything which SpaceX all-civilian crew will carry
Chris Sembroski (Air Force vet)
Sembroski, a 42-year-old US Air Force veteran who fought in Iraq, works for Lockheed Martin in Washington. He was chosen after making a gift to St. Jude's Hospital as part of fundraising. His seat signifies "generosity," and his duty will be to assist in the management of the goods on board as well as communications with Earth.
Last Updated Sep 13, 2021, 11:35 AM IST