Simplified Borrowing: The Advantages of Applying for Personal Loans Online
Applying for a personal loan has become easier with the help of digital processes. It comes with numerous advantages and is a great way to get the required credit faster and more efficiently. The process is secure and can help you get the amount you wish to borrow without much effort.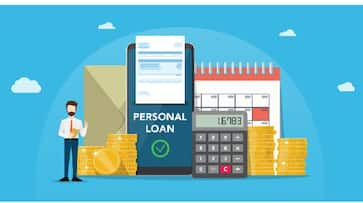 You can save time by applying for personal loans online. Furthermore, you can plan your repayments and monthly budgets better with the help of online tools. Let us understand the advantages that an online personal loan has to offer. 
Advantages of Applying for a Personal Loan Online
Here's a small list of advantages of applying for a personal loan online.
1. Easy Comparison
Applying for a personal loan requires extensive research. You need to check the various offers lenders have to offer. In addition to this, you also need to check which personal loans eligibility criteria you can fulfil. Doing this physically by visiting multiple branch offices is a tedious task. With the help of online lender websites, you can check and compare the multiple loan offers available to you. This helps you make an informed decision and is a crucial step in starting your loan application process.
2. Tools & Calculators
Planning is a crucial part of your loan application, which can be taken care of with the help of convenient online tools. EMI calculators can help you estimate the instalments you are likely to pay each month and ascertain the overall repayment costs of the said loan. You are simply required to enter loan details like the tenure, interest rate, and loan amount, to compute your EMI instantly. Trying various combinations can help you find out the loan terms which suit your finances and future goals better. 
3. Quick & Seamless
The process of getting a personal loan online is quick and hassle-free. The completely digitised procedures make getting a loan simpler. This online process also serves as a good option during emergencies to save time. Furthermore, you do not have to worry about the hassles of standing in long queues. Instead, you can get the required funds from the comfort of your home with just a few clicks and taps.
4. Minimal Documentation
The documentation procedures have become extremely convenient and hassle-free with online personal loan applications. You can simply scan the documents and send them to the lender. This reduces the amount of paperwork and photocopies you need to handle while also helping you save time and effort.
5. User-Friendly Portals
If you are applying for a personal loan online for the first time, it can be a challenge as you may be unaware of the procedure. However, banks and financial institutions have developed user-friendly portals which make it easier for you to apply for a loan online. Various articles, FAQs, blogs, and other informative content can help you understand how an online personal loan application works. Furthermore, you can always reach out to the customer care services available with each lender to resolve any doubts you may have or to raise any concerns you might be facing. 
 
6. Track Your Credit
You can keep track of your loan via online platforms, where information regarding your loan is easily available. To find out the status of your loan or any details pertaining to your credit, simply use your lender's official website or app. This helps you avoid visiting the branch office physically. Instead, you can simply access all important information at your fingertips, making online loan applications very efficient. 
Eligibility Criteria
Prior to applying, it is essential to check whether you fall within the set personal loan eligibility criteria. Here is a list of some criteria you may be required to follow to be eligible for a personal loan. 
The applicant must be an Indian citizen
The applicant must be either salaried or self-employed
The applicant must be at least 21 years old
The applicant must have a work experience of 2 to 3 years
The applicant must have a good credit score
The criteria may differ from one lender to another. It is possible that if you do not meet the aforementioned criteria, your loan application may be rejected. 
Documents Required
Keeping some documents handy can help you get the loan faster and more seamlessly. Here is a list of some of the common documents you are usually asked to submit by lenders when applying for personal loans online.
1. Identity proof - PAN card, Aadhaar card, voter ID, driving licence, passport
2. Address proof - Aadhaar card, voter ID, driving licence, passport, electricity bill, telephone bill
3. Income proof - Salary slips or bank statements of the last 3 months
4. Photographs
The documents required may differ for each lender. Check the lender's official website to identify the papers you need to submit in order to get the loan. 
Things to Keep in Mind When Applying for a Personal Loan
Here is a list of things you should be mindful of when applying for a personal loan online. 
1. Check the authenticity of the lender. Make sure that the service provider is a certified lender and has a good track record. This is crucial to avoid getting scammed or having your sensitive information stolen and misused

2. Read the fine print of your loan terms carefully. Additional costs like processing fees, prepayment and foreclosure charges, late payment fees, etc. are mentioned here. Ensure to take these fees into consideration when estimating the overall cost of your loan's repayment. 

3. Avoid submitting multiple loan applications. The lender will conduct inquiries to check your credit history and repayment capabilities. Too many such inquiries can have an impact on your credit score and reduce your chances of getting the loan. Thus, it is advisable to check your personal loan eligibility criteria, prior to applying for an online personal loan. 
It is now time to get started on your digital personal loan application through a transparent process. Consider the tips and tricks provided above to apply for a personal loan smoothly and seamlessly. Get the required funds today by applying for a personal loan online!
Disclaimer: This is a featured content  
Last Updated Sep 26, 2023, 11:01 AM IST