ODI World Cup 2023: Only 4,000 attend World Cup opener, sparking concern for turnout
The current turnout for the first World Cup match between England and New Zealand has been way below the expectations of many. Only an estimated 4,000 people have made their way into the Narendra Modi Stadium so far.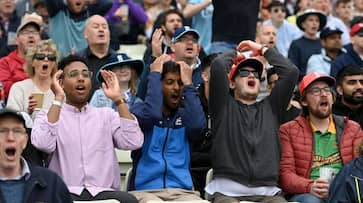 The first match of the prestigious ODI World Cup 2023 is underway but with a very low turnout in a stadium that has World beating capacity. According to various reports, only close to 4,000 people are currently present in the Narendra Modi Stadium in the first inning.
A huge turnout of crowd was expected to make its way for the curtain raiser fixture on Thursday but nothing of the sort has happened so far. Book My Show portal which is the match ticket booking partner of the BCCI has shown that more than 50 percent of tickets are booked and many stands are also sold out.
Also Read: ODI World Cup 2023: New Zealand keeps a check on England as top order fails to impress
However, the on-ground situation is different which is raising the eyebrows of many on social media. Many are raising as to why the Book My Show tickets data is not getting replicated at the Narendra Modi Stadium in Ahmedabad.
The world-class stadium has a seating capacity of 132,000 but only a faction of seats are filled as of now. Part of the reason can only be that the curtain raiser fixture is taking place on a working day. People from all walks of life like Offices, Schools, Colleges etc will be busy in the daytime.
Moreover, the current weather conditions in Ahmedabad are very hot. The maximum temperature for today in Ahmedabad is 34°C which is why many would have preferred to stay at home and watch the game. However, it is expected that the evening hours will witness a massive influx of people.
The second inning could take place with more crowd in the stands which will make the environment more interesting in the Narendra Modi Stadium. However, the BCCI will need to improve its overall functioning as it has barely made any effort to draw the crowds. Many wonder if the BCCI even cares about the fans and the game as a whole.
Last Updated Oct 5, 2023, 5:53 PM IST