Election 2019: Activists demand ban on EVM machines in 2019 general elections
Activist and members of Dalit Minorities Sene, Bhimshakti Dalit Shangharsh Samiti, Samvidhan Bachao Sangharsh Samiti, Bahujan Kranti Morcha, SDPI and others held a protest at Town Hall in Bengaluru, demanding a ban on EVMs in the upcoming Lok Sabha election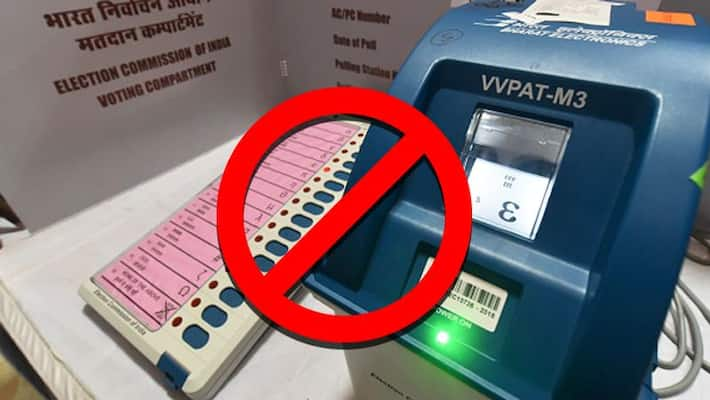 Bengaluru: Expressing doubt over free and fair elections after past incidents of EVMs encountering technical issues and allegations that machines were tampered with, activists and members of various Dalit communities held a protest at Puttanna Chetty Town in Bengaluru on Thursday.
The members of Dalit Minorities Sene, Bhimshakti Dalit Shangharsh Samiti, Samvidhan Bachao Sangharsh Samiti, Bahujan Kranti Morcha and SDPI claimed that despite the Supreme Court directive that trail paper at the polling booth should also be taken into consideration along with EVM counting, the Election Commission of India (ECI) failed to follow instructions and said that it was contempt of court. The activists shouted slogans against the ECI.
"We know how the elections were held last time, there were incidents of rigging of votes and few activists have highlighted this with proof. Despite this evidence and several petitions, the Election Commission has not taken any steps and wants to continue the use of EVMs only. This way there will be rigging once again, hence we want EVMs banned in the 2019 general election," said, Ajaz Khan, state president, Dalit Minorities Sene
Officials of Bharat Heavy Electricals Limited (BHEL), however, have maintained that the EVMs cannot be tampered with.
"All personnel who are involved with making of EVMs are security cleared and the entire process operates in the presence of CCTV cameras. All EVMs are thoroughly checked and there is no question of EVM tampering," said Ananthi Ramalingam, marketing director, BEL.
Last Updated Mar 1, 2019, 3:54 PM IST