Controversial Elevated Corridor: Bengaluru wants project scrapped
Hundreds of activists, environmentalists and people from all walks of life gathered at Maurya Circle and sloganeered in unison demanding that the Rs 27,000 crore 80-kilometer length Elevated North-South Corridor project be scrapped.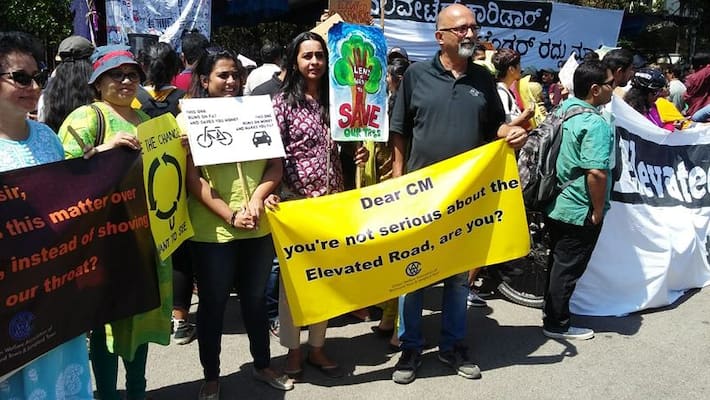 Bengaluru: Activists from small children to the aged and from all walks of life came together asking the Karnataka Government to scrap the proposed Rs 27,000 crore Elevated Corridor project. The project is said to be the brainchild of chief minister Kumaraswamy, who claims that it will connect North Bengaluru to South Bengaluru and make travel to the Airport a lot easier.
Activist Prakash Belawadi did not seem so convinced. He said that activists feel ashamed to have come out and protest like this time and again, but the government has not learnt any lessons from the past. "Earlier, they planned to have the controversial steel flyover. When we protested, the project was scrapped.  And now they have proposed another project of a similar kind. This will kill trees and ruin the atmosphere.
Mobility expert Ashish Verma and Vinay Sreenivasa of the BMTC Bus Commuters Forum and other activists joined in and expressed their views.
"This kind of project will never have any impact in solving traffic issues. Instead, it will lead to more traffic later on. Even in Mumbai the same kind of thought process was followed, and projects were sanctioned and implemented, but has it solved traffic issues?" asked Verma.
"Ignoring public transport departments like Bengaluru Metropolitan Transportation Corporation and not allocating required funds to them in the current budget shows that the government preaches a word that is contradictory to its intent," said another activist.
"The Elevated Corridor cannot solve traffic issues. The BMTC is known as the poor man's transport and the government has ignored it completely. Earlier when Anand Rao Circle Flyover was being made, 400 trees were chopped but has it solved traffic issues? Similarly making the elevated corridor will not solve any such issues," Vinay Sreenivasa, BMTC Bus Commuters Forum said.
Last Updated Mar 16, 2019, 7:41 PM IST