Parippu Vada to Ethakka Appam: 6 quick and easy evening snacks in Kerala
Kerala, with its rich culinary heritage, offers a wide range of delectable evening snacks that are not only flavorful but also steeped in tradition. Here are six famous evening snacks you must try when visiting Kerala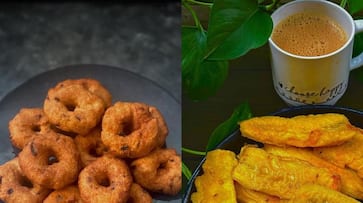 Kerala, with its rich culinary heritage, offers a wide range of delectable evening snacks that are not only flavorful but also steeped in tradition. Here are six famous evening snacks you must try when visiting Kerala:
Uzhunnu Vada: Uzhunnu Vada, also known as Medu Vada in other parts of India, is a beloved deep-fried snack made from black gram (urad dal) batter. These crispy and savory doughnuts have a delightful texture, with a crispy exterior and soft, fluffy interior. They are often served with coconut chutney or sambar.
Unniyappam: Unniyappam is a traditional Kerala snack made from rice flour, jaggery, and bananas. The batter is seasoned with ingredients like cardamom and fried in a special pan with small depressions, giving the snack its distinctive round shape. It's slightly sweet and incredibly satisfying.
Samosa: Samosas are a popular evening snack in Kerala, often filled with spiced potato and minced meat or vegetables. These deep-fried triangular pastries are known for their crunchy exterior and flavorful interior. They are best enjoyed with a cup of tea.
Parippu Vada: Parippu vada, or lentil fritters, are a staple of Kerala tea-time snacks. Made from coarsely ground soaked lentils and flavored with spices like ginger, green chilies, and curry leaves, these crispy vadas are a delightful combination of textures and flavors.
Kerala Sweets: Kerala offers a variety of traditional sweets that are perfect for evening snacking. Some popular options include "Achappam" (rose cookies), "Neyyappam" (ghee-fried rice cakes), and "Kozhukkatta" (sweet rice dumplings). These sweets are often prepared during festivals and special occasions.
Ethakka Appam: Ethakka appam is a unique Kerala snack made from ripe plantains (ethakka). The plantains are sliced, dipped in a rice flour batter, and deep-fried until golden brown. The result is a sweet and crunchy snack with a hint of cardamom flavor.
These famous evening snacks of Kerala not only tantalize the taste buds but also provide a glimpse into the state's rich culinary traditions. Whether you're strolling through a bustling local market or relaxing by the backwaters, don't miss the opportunity to savor these delicious treats during your visit to Kerala.
Last Updated Sep 21, 2023, 2:08 PM IST