Navratri 2023: The significance of Golu and its customs, traditions
Southern India embraces the tradition of Bommai Golu, an artistic display of dolls and figurines, during this festive season. This unique practice thrives in states like Tamil Nadu, Karnataka, and Andhra Pradesh, where the dolls are arranged with precision on tiered platforms, representing stories from Indian scriptures.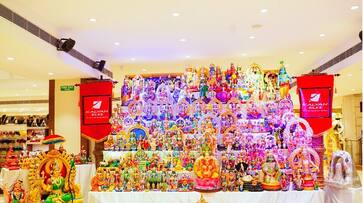 India, a nation characterized by its diverse colours, cultures, and faiths, finds unity in the spirit of togetherness, with festivals serving as powerful teachers of this unity. Dussehra, known by various names like Durga Pujo, Navratri, Akalbodhan, or Bommai Golu, binds the entire country with a common thread of celebration.
Dussehra, a festival venerating the power of the divine feminine in the form of Goddess Durga, manifests itself uniquely across different regions of the nation. In the west, Gujarat's vibrant garba dances captivate hearts, while the east resonates with Bengal's grand Durga Pujo festivities. 
In northern India, the air is filled with the echoes of Ramlila, Ravan-Dahan, and Kanya Puja -- each event marked by its distinctive traditions. However, as one journeys towards the southern part of the country, the charming tradition of Bommai Golu comes to the forefront. Golu, a captivating exhibition of dolls and figurines, characterizes the festive celebrations in this region.
South India, encompassing states like Andhra Pradesh, Karnataka, Kerala, Tamil Nadu, and Telangana, along with the union territories of Lakshadweep and Puducherry, displays a rich tapestry of diverse customs and rituals to mark the auspicious occasion of Dussehra. 
In Karnataka, the resplendent Mysuru Palace has become a tourist attraction, drawing visitors from far and wide. In Kerala, the final three days of Durga Puja are considered highly propitious for initiating new endeavours.
What is a Navratri Golu?
Golu, also known as Navratri Golu, is a quintessential part of the celebrations in South India. This artistic presentation of dolls and figurines is a cherished tradition in Tamil Nadu, Karnataka, and Andhra Pradesh. The festivities commence with each household meticulously arranging a Golu display in a designated corner of their homes.
Golu, known by various names and bearing distinct connotations in different languages, holds a special place in the hearts of the people. In Tamil, Bommai Golu or Kolu signifies a divine presence, while in Telugu, Bommala Koluvu translates to "Court of Toys." In Kannada, Bombe Habba aptly describes the Doll Festival.
How to set up a Navratri Golu?
The art of setting up Golu is a skilful endeavour. Dolls and figurines portraying an array of deities, animals, humans, and children are meticulously placed on a tiered platform, referred to as Bommai Golu. The dolls are typically arranged on an odd number of steps, such as 11, 9, or 3, depending on the dolls being showcased.
A ceremonial jar, known as the Kalash, brimming with water and adorned with mango leaves, is placed on the topmost step, topped with a coconut—an embodiment of Goddess Durga. Alongside, idols of various deities find their place. The wooden Marapachi Bommai idols representing Saraswati, Laxmi, and Durga hold a special spot on the steps. The lower tiers house idols of saints, heroes, and everyday life depictions, such as playful children, weddings, and singing communities.
How long is Navratri Golu kept for?
The Navratri Golu is typically exhibited for a duration spanning three to nine days. Books and musical instruments are thoughtfully arranged beside the Golu setup. On the auspicious occasion of Vijayadashmi, the 10th day of Navratri, the Golu dolls are symbolically put to rest and carefully packed away the following day.
Significance of Bommai Golu
Bommai Golu holds immense significance, not merely as a visual display but as a reflection of ancient Hindu scriptures and narratives. The arrangement of Golu figurines mirrors India's rich storytelling heritage, with tales like the Ramayana, Puranas, and Dashavataram being artistically presented. Additionally, Golu symbolizes the journey of life, from the animal kingdom to the realm of sages and seers. In adherence to Golu traditions, people visit each other's homes, extending warm greetings and fostering a sense of community.
Last Updated Oct 20, 2023, 9:32 AM IST