Navratri 2023: 7 quick, easy steps to make Sabudana Khichdi at home
Learn to make quick and easy Sabudana Khichdi, a perfect fasting dish for Navratri. Follow this step-by-step recipe for a delicious meal during the festival.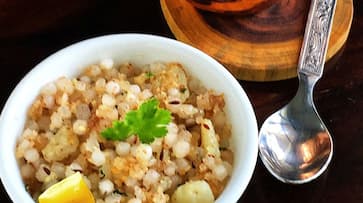 During Navratri devotees observe fast for nine days and avoid non-veg food. Tthough there are restrictions on having certain food items, one can still have exciting yet healthy food during the fasting period. Sabudana Khichdi is a popular dish during the Navratri fasting. It is prepared with soaked sabudana, roasted peanuts and spices. 
Ingredients:
1 cup sabudana (sago pearls)
1 medium-sized potato, peeled and diced
2-3 green chilies, finely chopped (adjust to your spice preference)
1/2 cup roasted peanuts, coarsely ground
1 teaspoon cumin seeds
2 tablespoons ghee (clarified butter) or vegetable oil
A pinch of asafoetida (hing)
Sendha namak (rock salt) to taste
Fresh coriander leaves, chopped, for garnish
Lemon wedges for serving (optional)
Instructions:
1. Wash and Soak Sabudana:
Take one cup of sabudana in a bowl.
Wash it under running water until the water runs clear.
Add enough water to the sabudana to cover it, and let it soak for 4-5 hours or overnight. The sabudana will absorb the water and swell up.
2. Drain and Fluff:
After soaking, drain any excess water from the sabudana using a sieve.
Fluff the soaked sabudana with a fork to separate the pearls.
3. Roast Peanuts:
In a pan, dry roast the peanuts until they become crisp and brown. Allow them to cool and then coarsely grind them. Set them aside.
4. Cook Potatoes:
Heat ghee or oil in a pan. Add cumin seeds and let them splutter.
Add the diced potatoes and sauté them on medium heat until they become golden and tender.
5. Add Green Chilies and Sabudana:
Add the chopped green chilies and asafoetida to the pan. Sauté for a minute.
Add the soaked and fluffed sabudana to the pan. Mix well and cook for a few minutes. Stir gently to avoid mashing the sabudana.
6. Season and Cook:
Add the coarsely ground peanuts and salt to the sabudana. Mix everything thoroughly.
Cook the mixture on low to medium heat, stirring occasionally, for about 5-7 minutes until the sabudana becomes translucent and the potatoes are cooked through.
7. Garnish and Serve:
Garnish the Sabudana Khichdi with freshly chopped coriander leaves.
You can also add a squeeze of lemon juice for a tangy flavor and some grated coconut for extra texture (both optional).
Sabudana Khichdi is traditionally served hot and is best enjoyed immediately. This Sabudana Khichdi recipe is perfect for Navratri fasting or any time you're in the mood for a light and tasty snack.
Last Updated Oct 16, 2023, 1:07 PM IST