Makar Sankranti 2022: Know how the festival is celebrated in these three cultures
The auspicious festival of Makar Sankranti is widely celebrated across the country. However, the festival has special important in the Maharashtrian, Gujarati and Punjabi households. Here is how they celebrate the festival.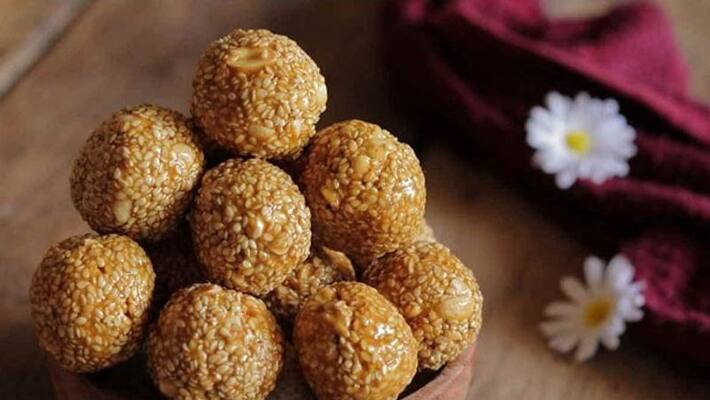 Makar Sankranti is one of the most auspicious Hindu festivals and is celebrated all over India. The festival is unique because it is the only festival which falls on the same date every year, i.e. on January 14. It marks the beginning of the harvest season and is also famous as the 'kite flying' festival. First Print gives how is it celebrated in the different cultures of the society.
MAHARASHTRIAN: 'Gudachi podi' (jaggery rotis) and 'tilache laadoos' (sesame laddoos) are made for this festival. In Maharashtrian custom, there is an exchange of 'til laddoos' (made of sesame seeds, sugar and jaggery) among each other. The elders of the house distribute laddoos to their younger ones and greet them by saying "til-gud ghya, god god bola" which means accept these sweet tilguds and speak sweet words. Not just the sweets but apparel is also an important factor in Maharashtrian families. As per the tradition, married women, especially the newly married ones, wear black sarees and organise a religious meet at their homes called 'Haldu Kunku'. In this, they invite married women to their homes and exchange tilguds. Interestingly, this is the only festival wherein wearing black is considered to be 'auspicious'.
ALSO READ: Makar Sakranti 2021: Til Laddoo to Khichdi, 5 finger-licking delicious delicacies of this festival
GUJARATI: While 'til laddoos' and other 'til' sweets are associated with Maharashtrian's Makar Sankranti, kite flying is deeply associated with the Gujaratis. Makar Sankranti is known as 'Uttarayan' in Gujarat. Kite flying is the main aspect of it apart from food where undhiyu, puri, ladoo, jalebi, til and mamra chikki are prepared. 
PUNJABI: The festival is not only restricted to haldi-kumkum or kite flying but also has a 'bhangra' factor added to it as well. It is celebrated as 'Maghi' in Punjabis. They prepare rice kheech on Maghi. Lohri, which is celebrated a day before Sankranti has more significance in Punjabi culture than Makar Sankranti. Friends and family gather to celebrate Lohri where they sing and do bhangra around a bourn fire. This singing and dancing are continued even on the night of Sankranti with the same passion.
ALSO READ: Makara Sankranti: Celebrate the festival with these delicacies from north India
Last Updated Jan 11, 2022, 5:00 AM IST