Interior Designs Decoded: Unwind in a captivating courtyard
A courtyard can form the core of the home, provide a modern home with a special sense of serenity, and allows nature to become a major part of a home's makeup. Vandana Gujrati explains
The courtyard is an architectural design element which is often known as a micro-climate modifier and is responsible for increasing indoor occupant comfort in traditional architecture and as a social space apart from being sustainable.
The architectural planning of the courtyard goes way back to the Indus Valley Civilisation era. A courtyard can form the core of the home, provide a modern home with a special sense of serenity, and allows nature to become a major part of a home's makeup. 
Enclosed garden spaces act as personalised nature retreats that feed into adjacent interior spaces via the blurred boundaries of glass walls, retractable doors and atrium ceilings.
Let take a look at some tips to unwind in a courtyard:
* If a courtyard is just a pathway from place to place, make a modern path of slab paving stones across the wild bush.
* Create concrete bench wraps right around an outdoor kitchen, marking out its perimeter, a shaded area over the dining chairs and table for a cooler more comfortable outdoor dining experience in the height of summer.
* Maintain all of your ground space by fashioning a vertical garden. Create a cool interlocking design at ground level with irregular paving planks and lawns. Simple brickwork planters and grass growing between paving stones give a quaint laid-back vibe.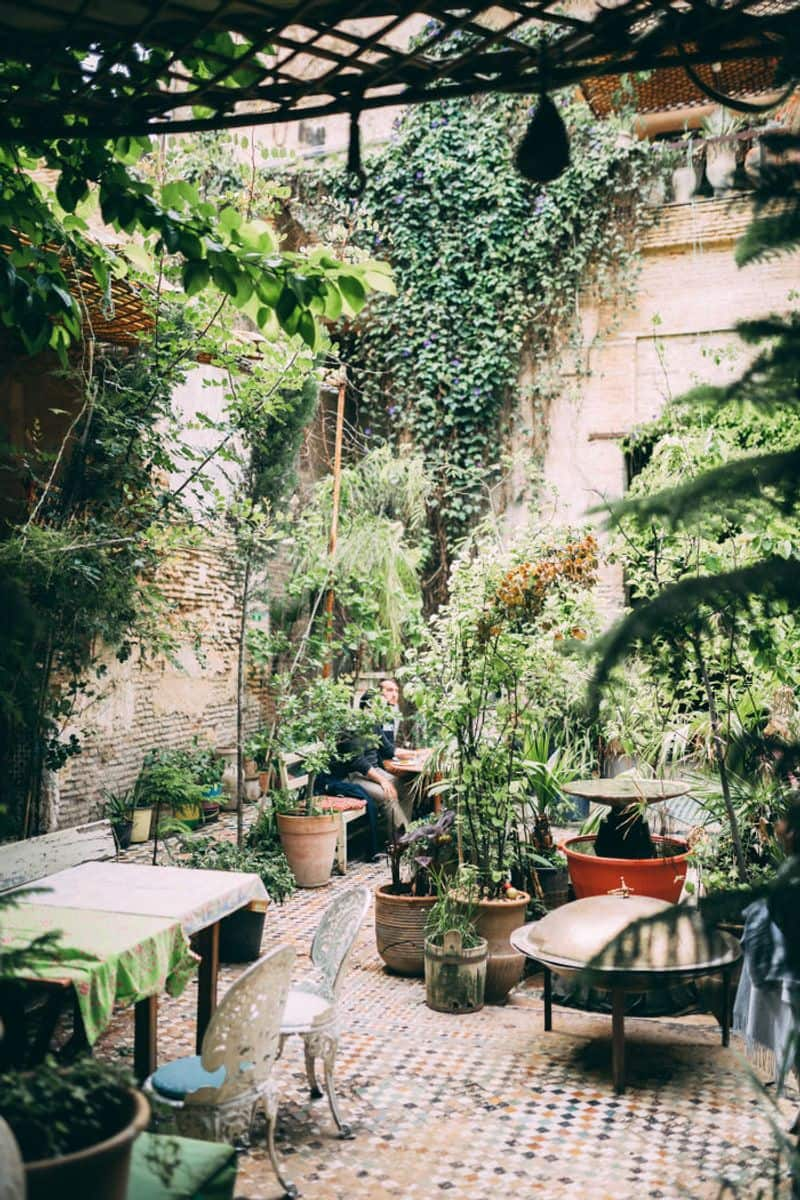 * A contemporary fire pit keeps the seating area comfortable in chillier times of day or season and is sure to give the wow factor.
* Courtyards don't have to be flat. A few little hills bring in a touch of the wild; soak up the sun in a hammock with lush jungle vibes.
* Plumerias are a great plant for courtyards. With their whimsical form, they incorporate plenty of colour in your planting to curate an uplifting view.
* Light it up with lanterns to provide a magical glow at twilight. Invest in exterior lighting to add drama to the smallest of details.
* Looking at a still pool of water can help quiet the mind, feed the soul, and cool the body. The base of a shallow pool can be lined with stones and pebbles to enrich the feature with a natural look.
* Live amongst the lily pads with a miniature lily pond. This one butts up so close against a sofa that you could even sit and dip your feet! Latticework overhead creates a cosy covered feel but still lets sunlight filter through.
* A glass case can incorporate retractable glass doors to allow access and to allow the garden space to be incorporated more fully with the interior when desired.
* Romance a special Señorita or Señor in a Spanish courtyard. You can flamenco dance the night away around the columns of romantic arches.
Last Updated Jun 4, 2023, 3:01 PM IST