Controversial! Samosas stuffed with strawberry and blueberry shock food lovers; 'RIP' say netizens - WATCH
The article explores the recent trend of unconventional fruity samosas and the mixed reactions they have generated among food enthusiasts in India.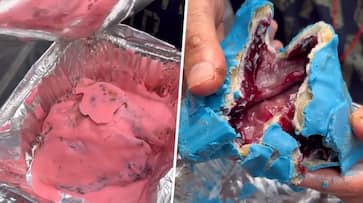 Samosas have long held a cherished place in Indian households, gracing our tables during lively get-togethers, festive celebrations, and even unexpected guest visits. However, in recent times, this humble snack has become a canvas for culinary experimentation, with innovations like bhindi samosas, macaroni samosas, biryani samosas, and even audacious chocolate samosas taking center stage. But the latest addition to this ever-evolving world of samosa fusion might raise a few eyebrows: the strawberry and blueberry samosa. These unconventional fruity samosas have taken social media by storm, generating both excitement and skepticism among food enthusiasts.
In an Instagram video shared by a food blogger, viewers are treated to a close-up of these unique samosas. First up is the strawberry samosa, a pink creation with a frozen, substantial outer layer. When split open, it reveals sliced strawberries and a luscious strawberry sauce. Next, the spotlight shifts to the blueberry samosa, a blue-colored samosa filled with a rich blueberry sauce. According to the video's caption, these extraordinary samosas are available for Rs 60 each at a restaurant in East Delhi.
Let's take a closer look at the video below:
The video has garnered an impressive 3.5 million views, but die-hard samosa enthusiasts are making their voices heard in the comment section. One user lamented, "Culture and food getting destroyed together."
Another pleaded, "Bhai bas aur trauma na de. [Please don't traumatize us further]." Someone questioned, "Lekin kyu? Kya majburi thi? [But why? What was the compulsion?]"
Another person humorously remarked, "Zeher zyada badhiya hai! [Poison is better than this]."
An Instagrammer mourned the traditional aloo samosa, saying, "RIP aloo samosa."
Lastly, a user wistfully commented, "Abhi zinda rehne ka koi reason nahi raha [There is no reason to live now]."
Last Updated Sep 25, 2023, 12:29 PM IST