Balanced diet to regular grooming: Check out the Monsoon guide for your pets
Here are some suggestions to help you monitor your dog's health throughout the rainy season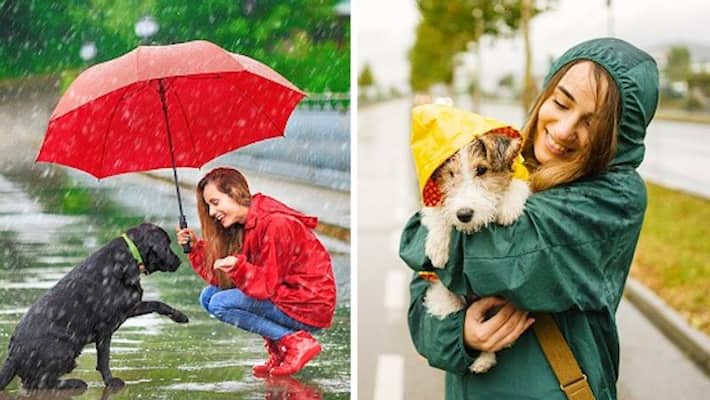 The monsoon is a time to celebrate. An occasion for rejoicing as it provides a much-needed respite from the oppressive heat. However, the nice weather also comes with it a new set of difficulties, particularly for our cherished canine companions. We must maintain health and prevent illness in our canine companions.
Dog care during the rainy season will change depending on the lifestyle, general preferences, and age of the dog.
Also Read: Have trust issues in your relationship? Use these 5 tips to overcome it
Make sure to clean your pets' dishes regularly and refill their water bowls with fresh water. To avoid the many bugs, worms, and germs that the monsoon season brings, adequate cleanliness is crucial, according to Dr Vinod Sharma, Head of Veterinary Services at DCC Animal Hospital.
To guarantee complete growth, Sharma continues, "include vitamins, minerals, and dietary supplements like Omega 3, 6, and to your furry baby's diet." in this climate, it is crucial to have a well-balanced diet full of fibre, carbs, protein, and minerals. Keep an eye out for food sensitivities and steer clear of certain foods. To learn which substances are safe for your dog during the monsoon season, speak with your veterinarian.
Also Read: Now not only women but Men also want beautiful hair and a properly shaped body posture
Even our pets are highly susceptible to skin infections and other health problems during the rainy season, just like humans are. First, anytime the season changes, be sure that a licenced veterinarian performs frequent health examinations. Second, offer the deworming immunisation as needed.
 
During the monsoons, frequent grooming is just as important as eating well. It is crucial to conduct good grooming sessions to avoid skin problems. Because of the humidity, it's never a good idea to let your pet's coat get wet.
These are only some fundamental suggestions for keeping dogs content and healthy during the rainy season. To the list above, add lots of cuddles, and your pet dog will be satisfied all the time.
Last Updated Jul 20, 2022, 7:00 AM IST