What it means if a lizard falls on you?
It means the lizard lost its balance?
There seems to be a wealth of literature on what it means if a lizard fell on you and the part of the body it fell on
Did you know? There is actually something that studies the falling of lizards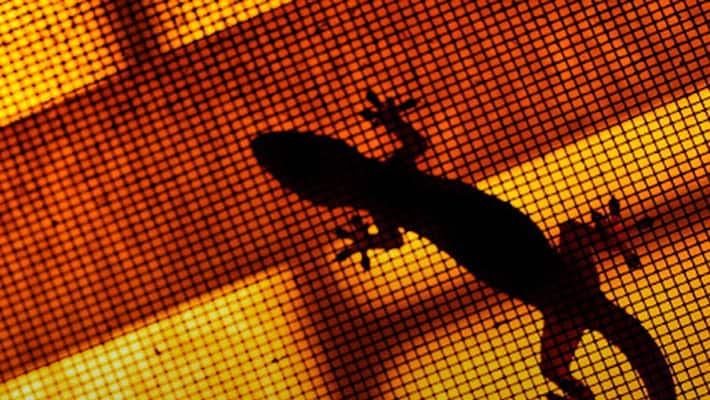 Ideally, you scream at the top of your lungs and run for your life. It is only later that the gravity of the situation dawns on you and you feel creepy all over.
For those of you who fear lizards, our sympathies. In fact, there are people who will not venture into a room if they see a lizard in it (raises hand in admission). Though they are harmless (I find that difficult to believe) household pests, they have a lot of bad press attached to them. Also, they make good subject for superstitions as well.
Apparently, if the poor lizard happens to fall on you it's trying to tell you something (how about the lizard just lost its balance?). Did you know a lizard falling on certain body parts mean certain things? It only goes to show these reptiles are not very good with staying on the ceilings.
Heck, whatever a lizard does has some meaning!
Scouring through the database of all things weird this is what we came up with
#The study of falling of lizards is called Gauli shastra. According to this shastra, every movement of a lizard holds significance and there are not less than 65 places where the lizard will fall on the human body that would foretell good and bad omens.
#If you happen to see two lizards mating it means you are going to meet an old friend, if you seem them quarrelling you will also pick fight with someone.
#If you see a dead lizard while moving into a new house, it could mean bad luck and illness for your family. On the contrary, some people believe seeing a lizard in the new house means Goddess Lakshmi is visiting them.
#The lizard must know on which side to fall: Lizard falling on your right arm means elevation in society or a sensual adventure ahead  and on your left arm means you are going to lose money.  It is considered auspicious if the lizard falls on the right body parts of man and left body parts in women. For both it means different things.
#The most common one, in the north if a lizard falls on your head it means good luck and if it falls on your forehead it means you will have a disease while some say it brings wealth. In the south people believe that if a lizard falls on the head then it means ill luck and in some cases even death. For example there is a story that a lizard fell on Chief Minister Biju Patnaik, just before elections in 2009, and he came back to power.​
#The lizard on the right and left shoulders mean victory and peace and happiness respectively.
#If the thing decides to take a tour of your body, well, it seems it is wishing you a long life.
#It is difficult to term what noise a lizard makes- is it twittering, is it chirping, or is it clucking? Anyway, so what does it mean when you hear a lizard's call? I would say it's just conversing with its mates but then humans also have an explanation for that as well. In Malayalam movies at least, if a lizard calls when you are saying something then it means that you are telling the truth and that is bound to happen.
#To wash off all the ill luck that comes from touching a lizard or it falling on a person, one needs to visit Varadaraja Perumal temple in Kanchipuram, where one can touch the golden Lizard, the silver lizard along with the sun and moon images on the roof, behind the sanctum sanctorum. When one touches them it is believed to remove all ill-effects or doshas caused due to the falling of lizards in the past and in future.
While we do not endorse any of these and do not wish lizards to fall on you, there are actually mentions of the lizard and its calls and more on its significance in Hinduism, Vedas and South Indian holy scriptures.
Last Updated Mar 31, 2018, 6:58 PM IST