Thrissur Pooram's origin: The amazing story behind the iconic festival
Before the Thrissur Pooram, the biggest temple festival in Kerala was the Arattupuzha Pooram
Sakthan Thampuran planned the Pooram himself, including ordaining the temples into two groups
Thrissur Pooram is a spectacle that has thrilled and mesmerised spectators for hundreds of years. Lakhs of people take part in the grand old festival every year. For many, the fireworks, the 'Kudamattam' and the majestic elephants are all a once-in-a-lifetime experience. Let's trace the origin of the festival.
Before the Thrissur Pooram, the biggest temple festival in Kerala was the Arattupuzha Pooram, which was a one-day festival held at the Arattupuzha temple, 10 kms from Thrissur. The annual Arattupuzha Pooram was a major draw in the city with temples in and around Thrissur being regular participants.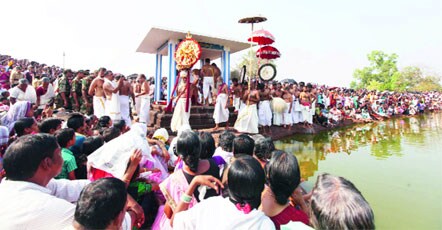 In the year 1798, the procession from temples in Thrissur arrived late for the Arattupuzha Pooram as they were caught up in heavy rain, and were denied entry to the Pooram. Humiliated and angered by the incident, the temple authorities went to the Sakthan Thampuran and requested his help. 
The same year, Sakthan Thampuran brought together 10 temples situated around Vadakkunnathan Temple in Thrissur and organised the first ever Thrissur Pooram, which was bigger and more extravagant than the Arattupuzha Pooram. This marked the beginning of the now-iconic Thrissur Pooram.
Sakthan Thampuran planned every little detail of the Pooram himself, including ordaining the participating temples into two groups; namely "Paramekkavu side" and "Thiruvambady side", headed by principal participants Paramekkavu Bagavathi Temple and Thiruvambadi Sri Krishna Temple respectively. Now, more than 200 years later, the Pooram still follows the format set by the king. 
Last Updated Mar 31, 2018, 6:40 PM IST