CPM worker attacked allegedly by SDPI activists in TVM [Video]
A video of the incident, which went viral, shows the assailants pushing the victim, Kumar, riding a bike and attacking him with a weapon
The victim managed to escape and is undergoing treatment at the Neyyattinkara government hospital
Kumar, an agent of CPM mouthpiece 'Deshabhimani', was distributing copies of the newspaper when he was attacked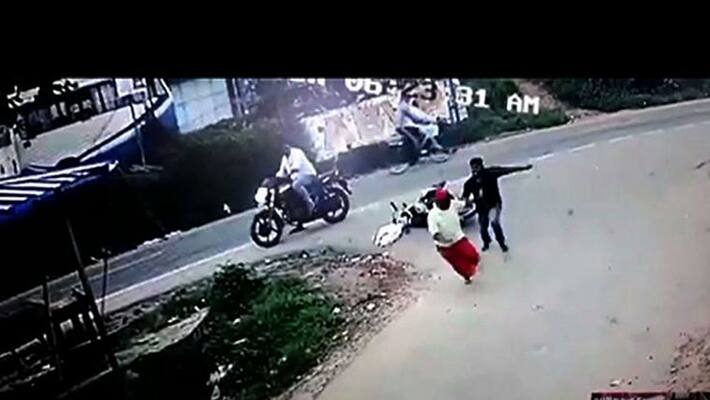 A CPM worker was injured when he was attacked by two bike-borne persons, allegedly belonging to Social Democratic Party of India (SDPI) in Thiruvananthapuram on Sunday. 
The attack took place at around 6 am at Kattakada, in the city outskirts, the police said. CPM and SDPI workers in the state have been on a warpath since the last two days.
A CCTV video of the incident, which went viral, shows the assailants pushing the victim, Kumar, riding a bike and attacking him with a weapon as he falls down. He managed to escape and is undergoing treatment at the Neyyattinkara government hospital. 
Kumar, an agent of CPM mouthpiece 'Deshabhimani', was distributing copies of the newspaper when he was attacked. The SDPI has denied their involvement in the incident. 
On Friday, a march taken out by SDPI was allegedly attacked by some CPM workers at Chavara in Kollam. Protesting against this, SDPI took out a march to the Secretariat the same night, and the police used tear gas to disperse them when they turned violent. 
Meanwhile, DGP Loknath Behara said patrolling has been intensified and police would handle such incidents with a firm hand.
Last Updated Mar 31, 2018, 6:41 PM IST