Not so nice: Pervert threatens Mrs India on NICE Road, no help arrives
Mrs India from Karnataka, Rajyashree Vishanth was on her way home with her husband on the night of August 6
Their vehicle broke in the middle of the street, and they could not see any help.
Rajyashree's husband went to fetch a mechanic when a pervert approached her and took off his shirt, showing off the bra he was wearing
Though she shouted for help, no one came forward, nor any help came from the help lines
Mrs India from Karnataka, Rajyashree Vishanth was on her way home with her husband on the night of August 6. The couple was travelling in their two-wheeler in on NICE Road at night when she had to undergo the horrific experience of her life.
Their vehicle broke in the middle of the street, and they could not see ant help. Thus, Rajyashree's husband stopped a vehicle crossing the NICE Road and drove with them to fetch a mechanic. Rajyashree was waiting on the NICE Road when a man wearing a white helmet comes before her. As he approached her, he removed his shirt and was seen wearing a bra stuffed with cotton.
"He pulled me towards him, and I could see he was wearing lipstick but was not transgender. I cried for help, but there was no one to help. Even the vehicles passing on the road were travelling in high speed and no one stopped to help. Then I threatened him by saying that I will call the police. Then he stood silently at a distance. When I started clicking his photograph, he fled the place. His face was not captured as he was wearing a helmet."
"The NICE Road seems to be dangerous. Even when I tried to contact the helpline, no one responded properly. Though we had ton wait there for hours, no authority came to our help," she said.
This is a serious matter of concern as recently NICE refused to slash the toll price and had said that the prices would be increased as it is difficult for them to maintain the roads.
However, just taking money doesn't end the responsibility of the maintenance of the road. There should be proper security or easily accessible help as many people take the NICE Road, especially at night (long-distance drives).
Rajyashree tagged the Bengaluru Police and wrote a post on Facebook, explaining the ordeal she had to undergo.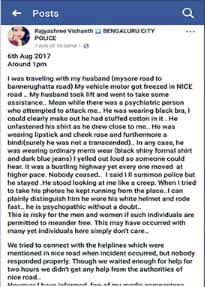 Last Updated Mar 31, 2018, 7:07 PM IST