Karnataka seer caught in sex scandal with Kannada actress [VIDEO]
Son of the chief of Hunasamaranahalli Samsthana Peetha, Dayananda Swamy was caught on bed allegedly with actress
Video of the same has created ruckus as the devotees have barged into the Mutt premises
He is also accused of selling lakhs worth property of the Mutt to fulfill his worldly desires
The son of the chief of Historical Hunasamaranahalli Samsthana Peetha, Dayanand alias Gurunanjeshwara Shivacharya Swamy was caught on bed allegedly with a Sandalwood actress. Video of the same has created a ruckus as the devotees have barged into the Mutt premises and are asking Dayanand to come out from hiding.
The video of chief seer's son engaging in sexual activities inside the Mutt premises has enraged the devotees of the Mutt, which has 500 years of history.
Now the Suvarna News has exposed the actress who was with Dayanand. The actress is said to be from Shivamogga who had acted in B grade Kannada movies like '141' and is also one of the six actresses in the movie Santhoshakke, is said to be seen with Dayananda Swamy.
ALSO READ: Kannada actress clarifies on sex scandal video with Dayananda Swami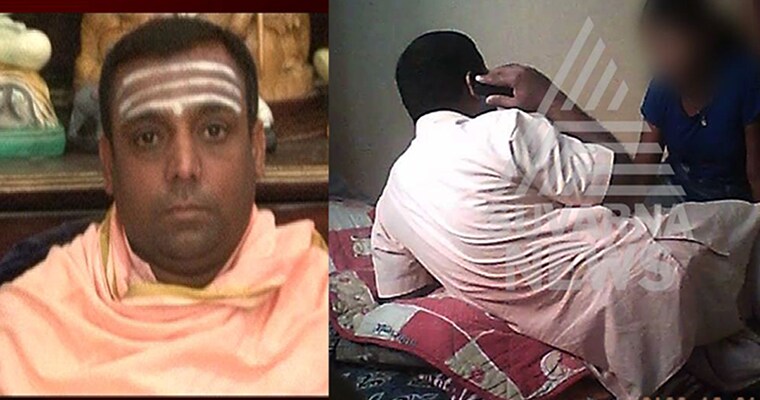 He is also accused of selling lakhs worth property of the Mutt to fulfil his worldly desires. This Mutt is known as the place of seers with celibacy. His father Parvatharaja Shivacharya Seer is also accused of having relationships with women. 
Further reports also said that he was debarred from examination hall when he was pursuing SSLC. Currently, arrangements were being made to make him the chief of the Mutt.
The devotees have gathered in the Mutt premises and are asking him to be removed from any post in the Mutt. But he is said to have put forth a demand that he will leave the mutt only if he is given compensation.
Last Updated Mar 31, 2018, 6:50 PM IST