Geetha Vishnu case gets murkier: Accused claims links with drugs kingpin who shared proximity with Ravi Teja
Geetha Vishnu surrendered before the police at Madikeri
Despite strict police vigil, he had escaped from Mallya Hospital
Vishnu was at the wheels when his car rammed into a Maruti Omni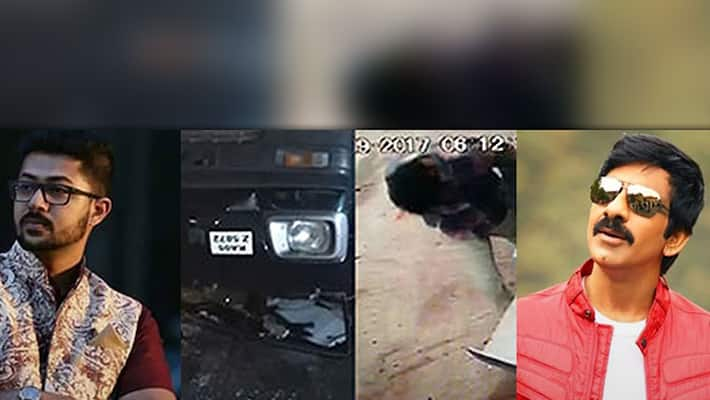 Shocking details have emerged from the arrest of Geetha Vishnu wanted in an accident - last week - and also for possessing 110 gm of ganja at the time of the accident. Quoting investigating officials, Suvarna News reported that Vishnu allegedly had links with the drugs kingpin who reportedly had close ties with Tollywood actor Ravi Teja.
Tollywood's popular actor Ravi Teja's name figured prominently after a major drug scandal rocked the Telugu film industry. It may be recalled here that Ravi Teja's brother Bharat was killed in a car crash and there were reports of Bharat having links with drugs mafia. 
Later, even when the Excise department led a marathon raid to expose drug nexus in the Telugu film industry, names like Ravi Teja, director Poori Jagannadh and other names prominently figured in the list.
Vishnu reportedly told the police that 110 gm of ganja that was found in his vehicle came from Hyderabad. Police are now digging deep into his revelations.
Further, contradicting Pranam Devaraj's claims, Vishnu reportedly told the investigating officers that Pranam Devaraj - son of senior actor Devaraj - was with him at the time of the accident. Pranam had claimed that he and Vishnu had dinner together at the Eden Gardens in Jayanagar and he left for home in his own vehicle. He rushed to the accident spot after Vishnu called him. However, with Vishnu contradicting Pranam's claims, there seems a new twist to the case.
Vishnu also told the police officers that he was at the wheels at the time of the accident, reports Suvarna News.  Geetha Vishnu is the grandson of liquor  baron Adikeshavalu.
Last Updated Mar 31, 2018, 6:46 PM IST