Bengaluru's legendary dosa house Vidyarthi Bhavan completes 75 years
Vidyarthi Bhavan was started in the year 1943 at Gandhi Bazar, Bengaluru. One dosa then was priced at 40 paisa. Today, after 75 years, it costs Rs 45.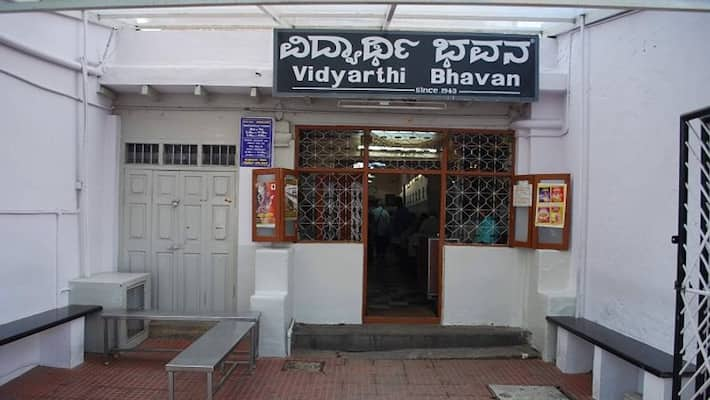 Bengaluru: Vidyarthi Bhavan is one of the landmarks of Bengaluru. This cosy restaurant attracted freedom fighters then and it still holds the same charm even now in the age of selfies. The place has completed 75 years today.
Vidyarthi Bhavan was started in the year 1943 at Gandhi Bazar, Bengaluru. One dosa would cost just 40 paisa then. Today, after 75 years, it costs Rs 45.
It is said that red rice is used to prepare the dosa. The slogan 'no one can eat just one' can be aptly applied to this place. Apart from dosa and chutney, all you get is rava vada. That again has a unique taste. Apart from these two snacks, there is coffee and tea.
The menu may be small, but the crowd that throngs this place is incredible. People stand in long queues and wait for hours to get a table there.
Though there is great demand, the owner Ravindra Adiga, has not expanded his business. He has not even constructed extra floors to expand his business. The place remains the same and the owners have no intention of expanding or opening any branches of the same.
Vidyarthi Bhavan is celebrating its platinum jubilee year at Ravindra Kalakshetra in Bengaluru on October 26. A coffee table book will be released on the occasion. The employees, who have been serving dosas for more than 20 years, will be felicitated during the event. Interestingly, some customers visiting the dosa outlet regularly - i.e for decades - will also be felicitated.
Vidyarthi Bhavan is the pride of Bengaluru. Substantiating this claim, the Department of Posts in India, will bring out a special postal cover and personalised stamp themed around the Bhavan.
The platinum jubilee event will be attended by dignitaries including Justice MN Venkatachalaiah, Bharat Ratna Professor C N R Rao, poet K S Nissar Ahmed, Founder of Maiyas Group of Companies Sadananda Maiya and Infosys co-founder Sudha Murthy.
Vidyarthi Bhavan was a place of inspiration to hold discussions during the fight for freedom and literary persons including P Lankesh, Nissar Ahmed, DVG, Masthi Venkatesh Iyengar are old-time customers. It still continues to be an inspiration to the youth, who discuss the future of India and even to those who want to savour the dosa to forget the everyday stress. 
Last Updated Oct 26, 2018, 6:58 PM IST