PM Modi joins Karnataka BJP leaders in criticizing Siddaramaiah's tenure as CM; check details
Prime Minister Narendra Modi launched a scathing critique of the Congress government in Karnataka, which has been in power for six months, during a recent election campaign in Khandwa, Madhya Pradesh. He accused Chief Minister Siddaramaiah of not knowing how long he will remain in power, asserting that the state's development has stagnated under Congress rule. Modi also alleged an ongoing rivalry between the Chief Minister and the Deputy Chief Minister to exploit the state's resources.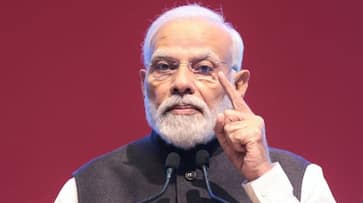 The Prime Minister did not hold back, pointing out that this alleged culture of corruption and infighting is not unique to Karnataka. He cited the example of Rajasthan, where despite having a majority, two groups within the Congress have been embroiled in constant internal disputes for over four years. Modi criticized the party for fostering a climate of corruption, mafia rule, and lawlessness, mentioning a gruesome incident in Rajasthan as evidence of the party's failings.
In a broader context, Prime Minister Modi highlighted the Congress party's tendency to disrupt state governance, engage in corruption, and neglect the needs of the people. He urged citizens to be vigilant about forces that divide society, suggesting that such issues should be taken as a warning for Madhya Pradesh and other states.
Last Updated Nov 6, 2023, 11:33 AM IST