Owing to the high level of education and healthcare system, Kerala is well off in most cases as compared to Uttar Pradesh.
Of course, lack of awareness in family planning and population explosion as a result of this in Uttar Pradesh has also played an important role in the depleting healthcare system in Uttar Pradesh.
Adityanath, on his visit to Kerala said that the state is lagging behind in healthcare and administration.
Yogi Adityanath's recent visit to Kerala and the controversial remarks following it pertaining to the "infant mortality rates" in God's own country has opened the Pandora's Box. Gathering facts about both the states, Asianet Newsable found that instead of criticising the Kerala Government, Yogi Adityanath has lessons to learn from him when it comes to administrative responsibilities, maintaining law and order situation and the healthcare system.
Maternal mortality rate: Yogi, clearly, is not aware of the figures in his state when he criticised the Kerala government for the same. While Kerala reported just 61 in 1 lakh deaths, UP registered a whopping 285 deaths.
Owing to literacy levels and the advanced healthcare systems in Kerala, the state excels in this domain not only in South in India, but in the entire country. This just goes to show that the State's increased investments in the health sector in general, including the improvements in infrastructural facilities and the interventions in maternal and child health initiated through the NRHM, which began in 2005-06, have begun to pay off. Some of the initiatives taken by the healthcare department in Kerala include 100 percent institutional deliveries, reducing the number of C-section deliveries, improvement in ante-natal care, reduction of maternal deaths due to postpartum haemorrage and pre-eclampsia, clinical protocols, and quality standards to improve delivery care.
Life expectancy at birth: Naturally, with the healthcare sector blooming in Kerala and the initiatives taken for pre-natal and ante-natal care, the life expectancy at birth in Kerala is also among the highest. According to a report by the Times of India, Kerala with its low infant mortality, higher incomes, higher education levels and better health indicators, has the highest lifespan of 74.9 years among all the states.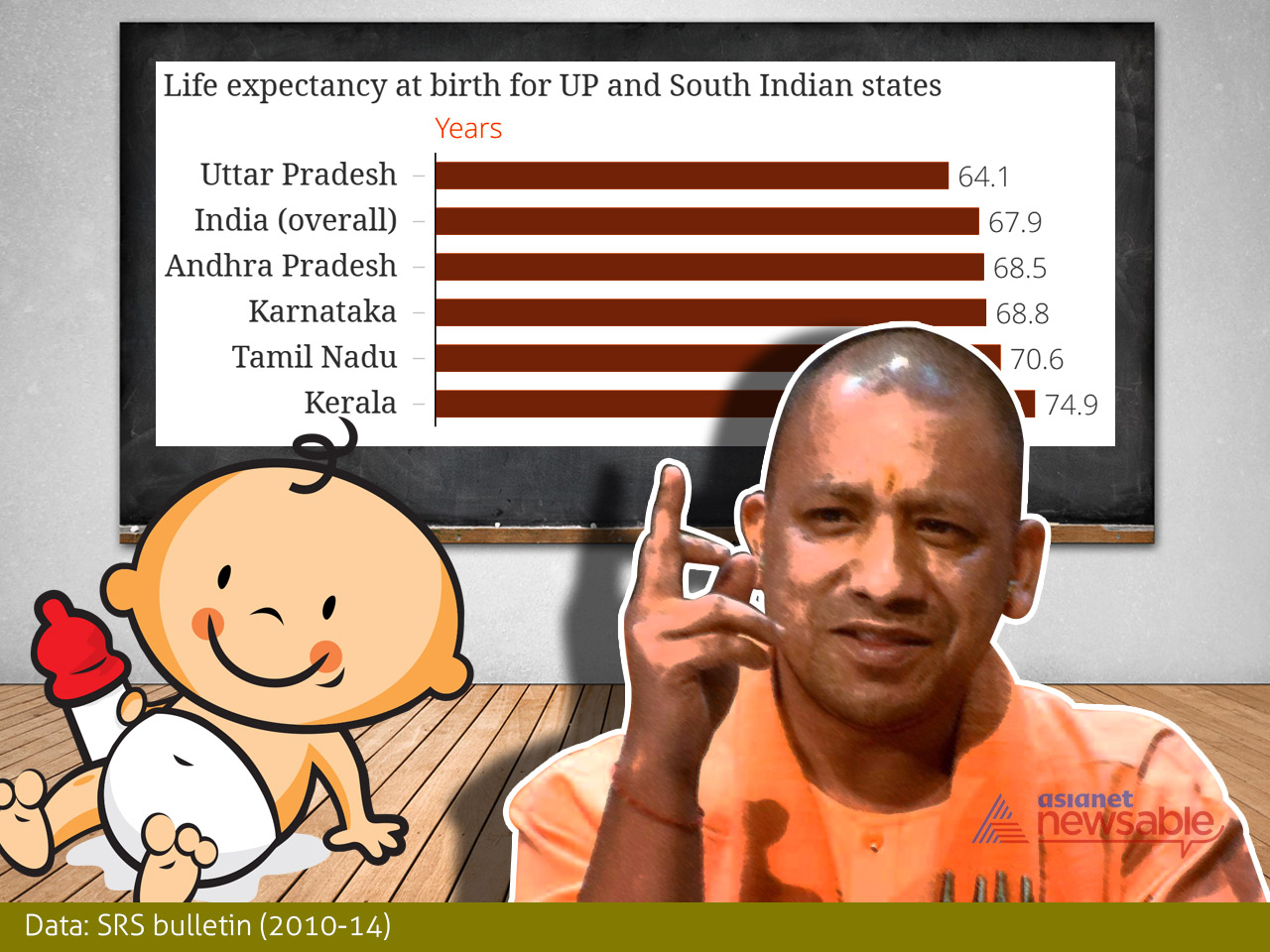 Infant mortality rate: The maternal mortality rate, the life expectancy at birth and the infant mortality rate are all interconnected. And they all are connected to the healthcare systems in the respective states. Owing to this, Kerala has registered just 10 in 1000 deaths, visa vie UP's 43 in 1000 deaths. The Gorakhpur incident when children died to lack of oxygen in a hospital is a case that justifies the statistics.
Average population served by one government doctor: The population density in Uttar Pradesh is way higher than in Kerala. According to a report by MapsofIndia, as of 2011, UP has a per kilometer square density of 828, visa vie Kerala's 859. It is estimated that UP has a population of 204.2 million. Whereas, Kerala has a population of 34.8 million. Owing to the lack of education and family planning awareness in UP, the number of government doctors serving the average population in UP is lesser than that in Kerala.
Deaths due to dengue in Kerala and UP: According to a 2017 data provided by NVBDCP, deaths due to dengue in Kerala has witnessed a steady rise as compared to Uttar Pradesh from 2016 to 2017. Healthcare officials in Kerala owe this to the lack of cleaning staff ahead of the monsoon season. Moreover, it has been reported that there is also a shortage of medicine and professionals to tackle the fever in Kerala. Incidentally, deaths in UP have reduced from 42 to 17 from 2016 to 2017. Visible effects of the 'Swachchata hi seva' campaign launched by Yogi is reflected in the reduced number of dengue deaths. He is also said to have presented certificates of appreciation to 15 'safai mitras' who contributed in the cleanliness programme.
Clinically suspected Chikungunya fever cases: There has been considerable reduction in the number of such cases in both the states. However, drastic change is visible in Uttar Pradesh, which had reported 2,458 cases in 2016 to 51 cases in 2017. It should, however, be noted that Kerala had reported just 129 cases in 2016.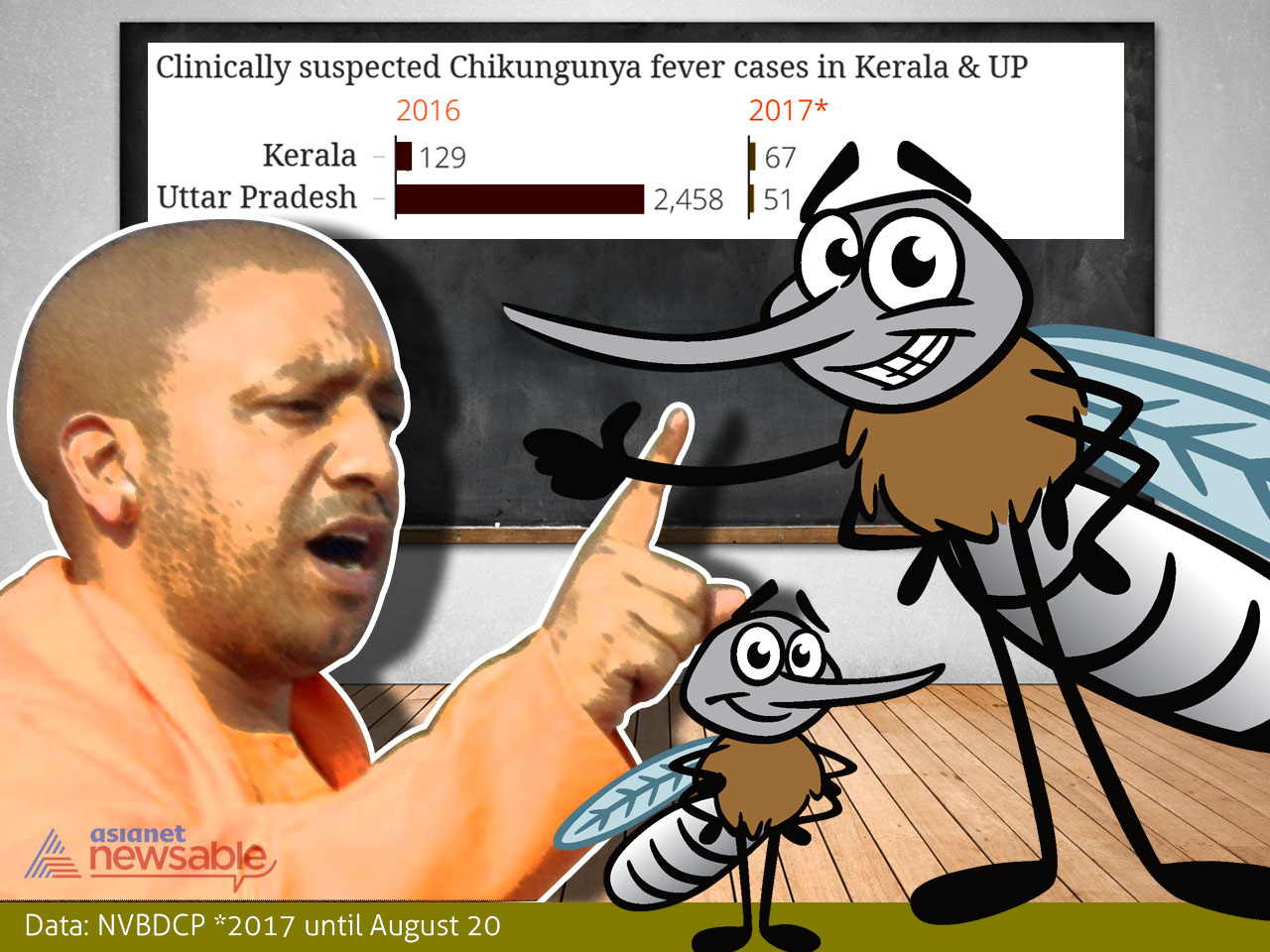 Last Updated 31, Mar 2018, 6:50 PM IST