'Why should techbros have all the fun?': Bengaluru auto driver goes viral for using office chair while driving
The article highlights a viral photo of a Bengaluru auto-rickshaw driver using an office chair while driving, generating humorous reactions on social media, and adds to a list of unique encounters in the city.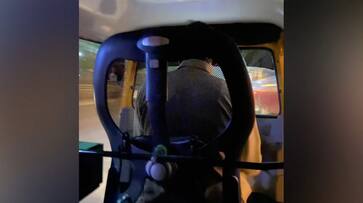 In yet another quintessential "peak Bengaluru" moment, a viral photo has surfaced on social media featuring an auto-rickshaw driver seated in an office chair while driving his three-wheeler. The image was originally shared on X (formerly known as Twitter) by user Anuj Bansal. This unique chair, commonly used by gamers or individuals spending long hours in front of computer screens, has sparked quite a buzz online.
Anuj Bansal captioned the post on the social media platform with a playful remark, "Why should techbros have all the fun?" Since its sharing, the post has garnered a whopping 1.9 lakh views and approximately three thousand likes.
One observer humorously commented, "Gaming chair! Must be a serious gamer before."
Another individual noted, "Lower back health matters to everyone."
A user on X emphasized, "Ergonomic setup prevents occupational hazards..."
A keen observer described it as a "peak Bengaluru moment."
Another commenter quipped, "Bro has an ultra-realistic driving setup."
Someone amusingly dubbed it an "ergonomic auto."
This incident only adds to the list of unique and amusing encounters that people often experience in Bengaluru. Just a month ago, a woman shared her own "peak Bengaluru moment" when she recounted her encounter with an auto-rickshaw driver who gave her a humorous ultimatum about waiting time.
According to her story, she had booked a ride through Uber but couldn't make it to the pick-up location on time. The auto driver, in a light-hearted exchange through the application's messaging service, humorously pinged her with messages like, "I've arrived," and, "Time is over," when the customer failed to connect. This comical incident led to a flurry of humorous reactions on the internet.
Last Updated Sep 24, 2023, 9:30 AM IST