Uttarakhand Tunnel Rescue: On day 3, rescuers try to create escape passage for 40 stranded workers
Efforts are underway to rescue 40 workers trapped in the collapsed Silkyara Tunnel in Uttarakhand. The Ministry of Road Transport and Highways reported ongoing coordinated rescue operations, with progress in removing debris and creating an escape passage. Challenges include cutting down rocks and stabilizing loose debris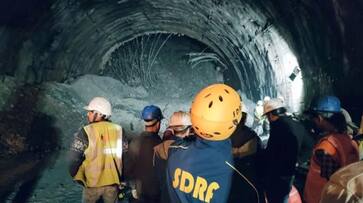 Coordinated and intensive efforts are underway to rescue the 40 workers who are trapped inside the under-construction Silkyara tunnel in Uttarakhand. The Ministry of Road Transport and Highways has provided updates, stating that all possible measures are being taken to evacuate the stranded workforce as swiftly as possible. Rescuers are focused on creating an escape passage to reach the trapped workers, and approximately 21 meters of the slab blocking the tunnel has been successfully removed. However, there is still a remaining distance of 19 meters to be cleared. The challenging task involves cutting down rocks that fell over a 200-meter area, creating an obstacle for the rescue teams.
Uttarkashi District Magistrate Abhishek Ruhela has assured that the debris removal from the tunnel is progressing vigorously. According to Ruhela, all workers inside the tunnel are safe, receiving adequate food, and supplied with oxygen through pipes.
The rescue operation is being delayed due to loose debris, which is now being stabilized. Excavation efforts, involving shotcreting -- a process of spraying concrete at high velocity over a structure -- have commenced for the collapsed 40-meter section of the tunnel.
A crucial part of the rescue plan involves pushing a pipe with a 900 mm diameter into the debris heap using a hydraulic jack. Auger machines will be utilized to drill a hole in the debris, facilitating the evacuation of the trapped workers. All necessary materials and machinery for this challenging operation have been mobilized to the site, with experts from the irrigation department also contributing their expertise.
Videos from the scene depict significant challenges, with massive piles of concrete blocking the tunnel and twisted metal bars from the broken roof adding complexity to the rescue efforts. Most of the trapped workers are migrants from Bihar, Jharkhand, Uttar Pradesh, West Bengal, Odisha, Uttarakhand, and Himachal Pradesh.
The workers became trapped on a Sunday morning after a section of the under-construction structure on the Brahmakhal-Yamunotri National Highway collapsed. The ongoing rescue efforts are a race against time to ensure the safety of the trapped workers.
Last Updated Nov 14, 2023, 8:56 AM IST