Unacademy faces backlash for firing tutor who asked students to vote for educated candidates
E-learning platform Unacademy faces backlash for firing tutor Karan Sangwan after he encouraged students to vote for educated candidates. Unacademy cited a breach of conduct for the dismissal. But the termination sparked backlash on social media, with users uninstalling the Unacademy app.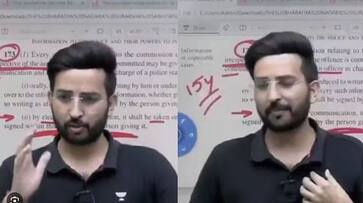 E-learning platform Unacademy found itself in the midst of controversy after it terminated the employment of a tutor, identified as Karan Sangwan, over a video of one of his instructional sessions that gained widespread attention. In the video, Sangwan advocated for voting for educated candidates. His dismissal sparked a massive uproar on various social media platforms.
Unacademy's co-founder, Roman Saini, explained that the decision to let go of the teacher was rooted in the company's code of conduct, as the classroom setting was not deemed appropriate for sharing personal viewpoints.
Questioning the decision, Shiv Sena (UBT) party leader Priyanka Chaturvedi asserted that suggesting people vote for educated politicians shouldn't be regarded as a biased opinion. 
She tweeted, questioning the idea that advocating for educated political leaders could be seen as problematic. She expressed her disappointment that expressing such a view could lead to someone losing their job.
Chaturvedi also made a comparison to a past incident involving actress Kajol, emphasizing that the backlash against Sangwan's opinion was excessive and led to him losing his employment.
The instructor was seemingly engaged in a discussion regarding the new bills introduced in the Lok Sabha by the BJP-led central government, aimed at replacing the British-era IPC, CrPC, and Indian Evidence Act.
"I had no anticipation that a video snippet would be taken out of context and shared widely. The manner in which it circulated across social media led to misinterpretation," Sangwan was quoted as saying by India Today.
"I delivered a general statement. My intention is to offer proper guidance. I advocate for well-informed individuals. Education isn't confined to classroom studies. I am transmitting the knowledge I've gained in my own class," Sangwan added.
The termination of Sangwan from Unacademy was met with substantial criticism across social media platforms. Numerous users reported uninstalling the Unacademy app, with the hashtag #UninstallUnacademy trending on a particular platform.
Delhi Chief Minister Arvind Kejriwal joined the conversation, condemning Unacademy's decision. Kejriwal questioned whether it was a crime to encourage educated individuals to vote, highlighting the significance of educated representation in the modern age of science and technology.
Following his dismissal from Unacademy, Sangwan initiated his own YouTube channel. He announced his intention to share additional details about the controversy in a video scheduled for release today.
Last Updated Aug 19, 2023, 9:13 AM IST