The forgotten royal: Awadh prince dies a pauper in a ruined hunting lodge in Delhi
Prince Ali Raza died on September 2 following a short illness
Malcha Mahal, hidden inside the central Ridge along the Sardar Patel Marg was where the member of the house of Awadh spent his last days
No one came to claim his body and he interacted with no one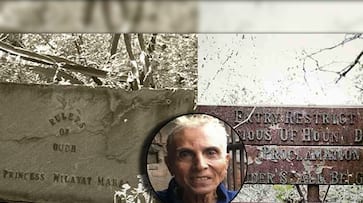 This is what you could call a riches to rags story. A prince who once lived surrounded by velvet and comfort died on the stone-cold floor of a ruined lodge called Malcha Mahal in the midst of thick vegetation in a corner of the Ridge in New Delhi.
Everybody knew Prince Cyrus also known as Ali Raza lived there. He had the jackals, the jinns and the dargah of Khawaja Moluddin Chishti around his mahal. People talked about him all the time, yet the Prince considered it beneath his dignity to mix with the 'commoners'. Foreign journalists made a beeline to cover his story – the story of a former royal now living in abject poverty.
Prince Cyrus got his eccentricity and pride in his noble blood from his mother who called herself Begum Wilayat Mahal. The family's decline began in the early 1900s when their estates and palaces were dissolved by the British and by 1970 the family had lost all their fortune as well. Princess Wilayat Mahal was the granddaughter of Nawab Wajid Ali Shah of Oudh. When Nawab Wajid Ali deposed  his property was seized by Britishers.
Prince Cyrus lived his days out in the Malcha Mahal which is a 60- year-old Tughlaq era hunting lodge. How did he come to be in this dilapidated structure?
It was thanks to his mother Princess Wilayat Mahal who anxious and distraught by the family's fall from nobility and fortune camped in the First Class Waiting Room of the Delhi railway station together with her young son and daughter, seven liveried Nepali servants, some 15 ferocious bloodhounds, and a collection of huge and beautiful Persian carpets. She refused to budge until the Indian government recognised the sacrifice she claimed her family had made during the uprising against the British in 1857.
Later in 1985 the government begrudgingly gave the princess and her family the Malcha Mahal. It was no palace but a ruined overgrown hunting lodge. It was no close to even being called a home – it had no water, no electricity, no doors, no windows and yet the Begum decided that they would stay there. It had been 30 years since Prince Cyrus and his family moved there. They had lost one of their brothers by then and the Princess was left with Princess Sakina and Prince Ali Raza to take care of.
Princess Sakina 
Both the siblings were believed to be past their 50s when people last saw them together. Princess Sakina too shared the family's insistence on carrying on their obsession with nobility. In an interview given to USA Today in 2004, she mourned the fall of the family and how they had been 'left in darkness'. On their non interaction with other people,(they called commoners) she is quoted to have said, "Ordinary people settle for ordinary things. Ordinariness is not just a crime, but it is a sin. Yes! It is a sin!"
The Princess Wilayat Mahal tried to safeguard her home as much as possible still clinging on to the remnants of their once royal life. They survived so long by selling off family heirlooms and other ornaments. They were provided electricity and a street lamp but damaged it because kids were gathering there and to keep them out they chose darkness. Neighbours of the royal family say they were fiercely private and had limited interaction. What became of the dogs is suspect but reports say that Prince Cyrus was good with dogs and even was known to help train the embassy dogs in the vicinity. Embassy cars were at one point of time seen in front of the mahal seeking the service of the Prince.
What became of the family is only gathered from reports. Begum Wilayat Mahal was reported to have committed suicide in September 1993 allegedly by swallowing a concoction of poisoned crushed diamonds. Yet, her presence seemed to be most overbearing in the dingy, mouldy ruins, her children fearing thieves in search of royal treasure buried her body after sleeping alongside it for a long time.  Princess Sakina also died this year, leaving behind a melancholy, ill-tempered and yet private Prince Cyrus to roam the corridors of the falling mahal and lie among ruined Persian carpets and screeching bats on the crumbling roof.
Raza, 58, died on September 2 following a short illness in the same month that his mother died. Theircomplaint had been that the government had been too blind to see their fate and their aversion to the common people forced them to end their life in penury.
Last Updated Mar 31, 2022, 3:00 PM IST