Tamil Nadu police failed to act against DMK leaders behind meet seeking to eradicate Sanatana Dharma: HC
Madras High Court criticized the TN police for failing to take action against members of the ruling party involved in a conference aimed at the "annihilation of Sanatana Dharma." The court stressed that nobody has the right to conduct meetings to eradicate any ideology and faulted the police for inaction in similar instances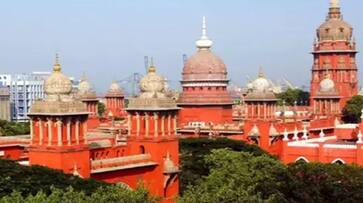 The Madras High Court has issued a non-binding statement highlighting the failure of the Tamil Nadu police to take appropriate action against Chief Minister Udhayanidhi Stalin and Hindu Religious and Charitable Endowments Minister PK Sekarbabu. Their participation in a conference in Chennai on September 2, where calls to destroy Sanatana Dharma, raised concerns.
Justice G Jayachandran emphasized that no individual or entity in the country possesses the inherent right to orchestrate gatherings aimed at the obliteration of any ideology. The court's stance became evident when it declined to grant permission for conducting a conclave focused on the 'eradication of Dravidian ideologies'.
Furthermore, the court found fault with the Tamil Nadu police for their apparent inaction concerning members of the Dravida Munnetra Kazhagam (DMK) who had previously delivered inflammatory speeches at a conclave centred on the 'eradication of Sanatana Dharma'. This lack of action was unambiguously termed a "dereliction of duty" by the court.
Justice Jayachandran, in a thought-provoking reflection, underscored the intrinsic nature of India's identity, which is characterized by the coexistence of multiple ideologies. Those who wield power, he noted, should conscientiously avoid promoting divisive notions that may sow discord.
This particular viewpoint was articulated by the Court while dismissing a petition filed by one Magesh Karthikeyan. The petitioner sought police authorization to hold a meeting with the objective of 'eradicating Dravidian ideologies' in Chennai. However, the Court deemed such an endeavour inappropriate in the broader context of societal harmony.
Justice Jayachandran contended that it is unreasonable to anticipate that the courts should facilitate the propagation of ideas that can foster animosity among the public. He further pointed out that the participation of certain members of the ruling party and ministers in a meeting with the goal of eradicating Sanatana Dharma, without any ensuing police action, constituted a glaring dereliction of duty. 
As such, granting permission for a counter-meeting aimed at eradicating 'Dravidian Ideology' would only serve to exacerbate societal unrest, the judge said, asserting that individuals in positions of power must exercise responsibility and abstain from actions that have the potential to divide the populace along the lines of ideology, caste, or religion. 
Rather, he said, they should redirect their focus towards addressing issues of more pressing concern, such as combatting the harmful impact of intoxicating substances, corruption, untouchability, and other pervasive social ills. This stance articulated by the court underscores the importance of responsible governance and the preservation of social cohesion in a diverse and multifaceted society.
Last Updated Nov 6, 2023, 10:54 AM IST