Sabarimala Ayyappa temple to open on Thursday for Mandala-Makaravilakku month
The Sabarimala temple will be opened on Thursday (Nov 16) at 5 pm for Mandala-Makaravilakku month. The Mandala month will start on November 17.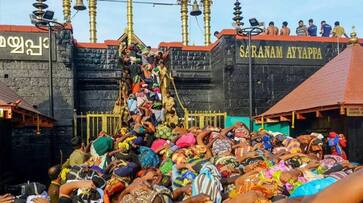 Pathanamthitta: The Sabarimala temple will be opened on Thursday (Nov 16) at 5 p.m. for Mandala-Makaravilakku month. The Devaswom Board informed that all the preparations have been completed. The state police chief will visit Pampa today to assess the security arrangements. The new chief priest( Melshanti) will take over the charges in Sannidhanam and Malikappuram. The Mandala month pooja will start on November 17.  The Devaswom Board has implemented modern systems to efficiently handle crowd management, starting from parking areas to Sannidhanam. The pilgrims will be provided darshan only through online bookings.
Forest Minister A.K. Saseendran launched the Ayyan mobile app at Pamba Srirama Saketam Auditorium last week to assist devotees during the Sabarimala pilgrimage. The Periyar Wildlife Sanctuary West Division developed the app, which provides information on all aspects of the pilgrimage. The app also shows services available at Pampa and Sannidhanam and along the Swami Ayyappan Road, Pampa-Neelimala-Sannidhanam, Erumeli-Azhutakadav-Pampa and Satram-Uppupara-Sannidhanam routes. 
The KSRTC will run more services during Mandala month. The construction of the new folding over the 18th step was not completed this season. The Nilakkal drinking water project has faced delays, leading to the need for water delivery via tanker trucks. The Mandala pooja is scheduled to take place on 27 December and the preparations are underway. A control room has been established in Idukki in connection with Mandala Pooja Mahotsav. This control room, along with a help desk, aims to enhance services for pilgrims, assess arrangements, and address any grievances that may arise during the event.
Control room phone numbers
Collectorate, Idukki: 04862 232242
Charge Officer: Additional District Magistrate Shaiju P Jacob, 9446303036
Team Members: Gopakumar VR, Junior Superintendent (7907366681), Ag. B, Sr. Clerk - 9496064718 and Vinoj VS, Sr. Clerk (9447324633).
Last Updated Nov 15, 2023, 8:55 AM IST