'Only question is Mahua chor hai ki nahi...' BJP's Nishikant Dubey on ethics panel hearing on Mahua Moitra
Nishikant Dubey, a BJP MP, appeared before the Lok Sabha ethics committee in response to his allegations of a cash-for-questions scheme against Trinamool MP Mahua Moitra. The allegations suggest that Mahua Moitra accepted cash and gifts in exchange for posing questions against Gautam Adani in Parliament.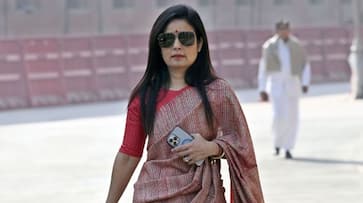 Nishikant Dubey, the BJP Lok Sabha MP who had made allegations of a cash-for-questions scheme against Trinamool MP Mahua Moitra, provided his statement to the Lok Sabha ethics committee. In response to Mahua Moitra's counter-allegations regarding his fake degree, Dubey declined to comment and stated that "the only question is Mahua chor hai ki nahi (whether Mahua Moitra is a thief or not)."
The Lok Sabha Ethics Committee conducted its inaugural meeting to investigate the accusations against Mahua Moitra. The session began at 12:30 PM, and advocate Jai Aand Dehadrai, described as Moitra's "jilted ex," was the first to appear before the committee.
It was Dehadrai who supplied "evidence" of Mahua Moitra's cash-for-question activities to Nishikant Dubey, leading Dubey to write to Lok Sabha Speaker Om Birla, who subsequently referred the case to the Ethics Committee. Jai Anant Dehadrai and Nishikant Dubey alleged that Mahua Moitra had received cash and gifts from industrialist Darshan Hiranandani in return for posing questions against Gautam Adani in Parliament. Dubey's complaint pointed out that out of the 61 questions Moitra had raised in Parliament, 50 concerned Adani. Hiranandani corroborated these claims in a signed affidavit, confessing to bribing Mahua Moitra and using her Parliament login to ask questions about Adani's competitors. In exchange, he fulfilled several requests from Mahua Moitra, such as renovating her office.
Mahua Moitra vehemently rejected all the allegations and instead focused on Nishikant Dubey and Jai Anant Dehadrai. Regarding Darshan Hiranandani, she suggested that he may have been coerced into making the statement.
With the case now under the purview of the Lok Sabha committee, Nishikant Dubey stated that he would respond to any questions from the committee and appear before it as required, highlighting the credibility of the documents. Dehadrai did not interact with the media upon his arrival at Parliament. The advocate is currently embroiled in a custody battle with Mahua Moitra over a pet dog named Henry, a rottweiler. Jai Anant Dehadrai claimed that Moitra had kidnapped Henry and offered mediation as part of the ongoing legal dispute related to Henry.
Union Information Technology Minister Ashwini Vaishnaw, in a letter to Dubey, expressed that the National Informatics Centre (NIC), responsible for managing Parliament and members' portals, would fully cooperate with the Lok Sabha's ethics panel in its probe of allegations against Moitra. In response to the letter, Moitra posted on her X account, raising questions about contradictory claims regarding NIC's cooperation.
Darshan Hiranandani, in a signed affidavit, claimed to have provided Mahua Moitra with information that allowed her to pose questions attacking the Adani Group in Parliament. He also stated that he had given her valuable gifts and financially supported the renovation of her official residence. Hiranandani admitted to having accessed Moitra's login credentials, allowing him to post questions directly on her behalf. When questioned about this, he referred to it as an "error of judgment" and claimed that he had signed the affidavit voluntarily and without any fear or favour.
Last Updated Oct 26, 2023, 2:23 PM IST