'Modi miracle': Former Israeli intelligence chief optimistic about India's role in brokering peace with Hamas
The article underscores the complex and sensitive nature of the Israel-Hamas war and the potential role that India' PM Narendra Modi could play in facilitating peace talks.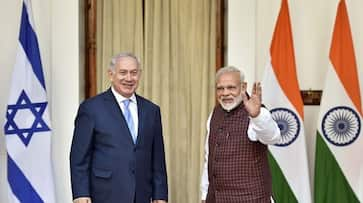 In the midst of the deadliest conflict between Israel and Hamas in decades, with a devastating toll of over 1,600 casualties and 6,000 injuries, the prospect of peace or even a ceasefire remains elusive. Amid discussions that India, known for its diplomatic initiatives, could potentially play a pivotal role in mediating the situation, the former head of Israel's military intelligence expressed a hopeful sentiment towards India's involvement. Major General Amos Yadlin (retd), in an interview with NDTV, conveyed Tel Aviv's openness to a "Modi miracle."
"Hamas is not willing to do any negotiation... any peace. Hamas is a terror organisation (like ISIS)... they are killing women, children in a very cold way. If Modi can make this miracle we will hold our finger for him," Major General Amos Yadlin (retd) told NDTV.
While expressing Israel's willingness to welcome Prime Minister Narendra Modi's mediation efforts, Major General Yadlin reiterated Hamas' resistance to peace talks.
"Hamas is not willing for peace. Israel and India relations are very important. These are two nations that got out independence at the same time... have similar traditions. We are two nations that have enemies at the border... you have Pakistan, China, and we have the terrorists from Gaza, Hezbollah, and Iran and Syria," he added.
"There is a lot of the same political background, and Israel is helping India a lot. We are giving weapons that you used to get from Russia. We welcome any attempt by your PM to mediate," he further stated.
The interview also delved into the challenges faced by Israel's intelligence agencies, Shin Bet and Mossad, in responding to Hamas' attacks. Yadlin cited multiple operational failures and lapses in intelligence gathering, which contributed to the devastating consequences of the conflict. Despite having advanced anti-rocket systems, Israel was caught off guard as Hamas adapted its tactics to counter intense surveillance.
Benjamin Netanyahu, the Prime Minister of Israel, had recently spoken to Prime Minister Narendra Modi, providing an update on the military situation in Israel. PM Modi's office affirmed India's solidarity with Israel during this challenging period.
In parallel developments, Hamas had issued threats against Tel Aviv, warning of the execution of hostages in retaliation for Israeli bombings. Israel had announced a "complete siege" on the Gaza Strip, exacerbating the dire humanitarian situation, with reports indicating the presence of approximately 150 hostages, including children, and casualties resulting from these threats.
Last Updated Oct 10, 2023, 4:12 PM IST