Kerala News Highlights: Bus-truck collision in Wayanad leaves 15 injured
Kerala News Highlights: Bus-truck collision in Wayanad leaves 15 injured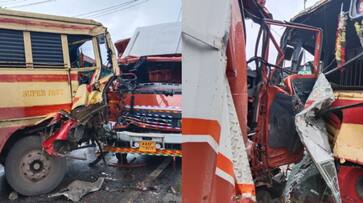 4:30 PM: Wrong blood transfused to pregnant woman in Thrissur
Wrong blood was transfused to pregnant woman in Governemnt Women And Children Hospital, Ponnani. B+ve blood was transfused to pregnant woman instead of O+ve. The lady is seeking treatment at Thrissur medical hospital
---
3.30 PM: Bus-truck collision in Wayanad leaves 15 injured
At least 15 people were injured in a head-on collision between a KSRTC bus and a container truck here on Friday. The truck driver suffered serious injuries to his leg. The bus, which was going from Nadavayal to Changanassery, was struck by the truck as it was leaving Kalpetta town.
---
2:45 PM: 15 injured after truck and bus hits in Wayanad
A truck and KSRTC bus collided in Wayanad on Friday(Sep 29). About 15 persons were injured. The incident happened this morning. The bus that left from Changanacherry met with an accident around 6.45 am 
---
2.30 PM: Rain update: Heavy rains continue to lash Kerala; Yellow, orange alert in various districts
The state is continuing to receive heavy rainfall. The IMD has sounded an orange alert in Thiruvananthapuram, Alappuzha, Kannur and Kasaragod districts. The remaining districts are under yellow alert. All the low-lying areas of Thiruvananthapuram have been water-logged. The relief is that there was no damage caused by the heavy rains. 
---
2.15 PM: Rain update: The shutters of Peppara Dam are currently raised by 40 cm. The District Collector informed that another 20cm (total of 60cm) will be raised at 02:30 PM today 
---
1:45 PM: Third shutter of Mandalam dam will open soon in Palakkad
In the wake of incessant rains, the third shutter of Mandalam dam will be raised by 5 cm at 2 pm today(Sep 29). The shutters are opening due to the increase in the water level due to heavy rainfall. Currently one and six shutters are open.
---
12.40 PM: Minor girl sexually assaulted in Kozhikode; brother arrested
A youth was taken into custody by the Thamarassery police on Friday for allegedly raping his 17-year-old sister for the last two years. The incident came to light when the victim shared the ordeal with her friend who then informed the school teacher. The school officials then informed the child line.
---
12.15 PM: Sanitation worker dies after falling from building in Kochi
A sanitation worker died after falling from a building in Kochi. The deceased has been identified as Mary, a native of Cherthala. The accident happened this morning in the Startup Mission building near Kalamassery Medical College. While cleaning work was being done near the escalator of the building, she fell down through the gap of the escalator. The injured Mary was rushed to the Kalamassery Medical College Hospital, but she died. 
---
11.00 AM: Withholding divorce despite failed marriage is cruel, says Kerala HC
The High Court has stated that it is cruel on the side of the partner to withhold consent for divorce even if they are fully convinced that the marriage is doomed. Reconciliation in marriage is impossible because of ongoing arguments, a lack of regard for one another, and alienation, the court stated.
Read More: Withholding divorce despite failed marriage is cruel, says Kerala HC
---
10:30 AM: Special committee appointed to probe KSEB Inkel solar project corruption
M D K Elankovan has appointed a special committee to investigate the Inkel solar project scam that was reported by Asianet News. This committee comprises of three members and was appointed during a special board meeting. The members of the committee include representatives from Cochin International Airport Limited(CIAL), Kochi Metro, and former KSEB Chief Engineer K Sivadas.
---
10:15 AM: Former Vadakara MLA MK Premnath passes away
Former Vadakara MLA and Loktantrik Janata Dal(LJD) state vice president MK Premnath passed away. He was 74 years old. He passed away this morning at a private hospital in Kozhikode. He represented Vadakara constituency in the Legislative Assembly during 2006-2011. He also worked as the President of Vadakara Rural Bank.
---
10:00 AM: MK Kannan meets CM Pinarayi Vijayan before appearing at ED office for interrogation
CPM State Committee Member and Thrissur District Cooperative Bank President MK Kannan met Kerala Chief Minister Pinarayi Vijayan today (Sep 29). The meeting was before he was going to appear before the ED in connection with the Karuvannur Cooperative Bank fraud case. This is the second time that MK Kannan is being questioned by the ED.
---
9:35 AM: Departmental inquiry ordered against two ASIs in Vandana Das murder case
Thiruvananthapuram Range DIG R Nishanthini has initiated a departmental inquiry against two Assistant Sub-Inspectors (ASIs), namely Baby Mohan and Manilal. This action comes in response to allegations that the two policemen fled for their own safety during an attack by the accused.
---
9:10 AM: 3 persons arrested with 100 g MDMA in Kozhikode
Three people were arrested with 100 grams of MDMA from Kozhikode on Friday (Sep 29). Prajosh P (44), Abhilash K (26), and Bineesh P (29), natives of Kolathara, were arrested by Kozhikode Anti-Narcotics Cell Assistant Commissioner TP Jacob and Inspector KA Bose.
---
8.43 AM: Kochi Water Metro boat to reach capital on November 1 as part of Keraleeyam celebration
The Thiruvananthapuram residents will have the opportunity to experience the Kochi Water Metro as the boat will arrive in the capital on November 1 for seven days. This is part of the Keraleeyam celebration marking Kerala day on November 1 to celebrate the achievements of the state. The Kochi Water Metro is being brought to Thiruvananthapuram as a part of the water conservation camp which is presented as the main theme of Kerala. The public will also be given an opportunity to board the water metro. The same boat used in the Kochi Water Metro service will be brought here.
---
8:30 AM: PG doctors strike in Kerala today
The postgraduate (PG) doctors in the state have initiated a 24-hour signal strike today( Sep 29). So, PG doctors will not be accessible for routine services, and outpatient services will be entirely boycotted. However, they will remain available for emergency cases, ICU, and labour room departments.
The strike is alleging that the government has failed to deliver on its promises, particularly in relation to issues such as stipend increases and job security. This strike represents a concerted effort by PG doctors to draw attention to their concerns and to press for the fulfilment of their demands.
---
8.00 AM: High Court staffer fatally shoots brother with air gun over verbal spat; arrested
An employee of the Kerala High Court shot the elder brother late on Thursday night in Edayapuram, Aluva. The deceased has been identified as Paulson. Thomas is being interrogated after being arrested by police. The incident happened around 11 pm on Thursday. Thomas parked his bike in front of the house in the morning, which was later vandalised by Paulson. Thomas had lodged a police complaint over the same. However, according to reports, a verbal altercation led to the killing.
---
7.52 AM: Heavy rainfall expected today; Yellow alert in 10 districts
According to the IMD, widespread rainfall is expected in the state today. A yellow alert has been sounded in 10 districts including Pathanamthitta, Alappuzha, Kottayam, Ernakulam, Idukki, Thrissur, Malappuram, Kozhikode, Kannur and Kasaragod. There is a ban on fishing in Kerala, Karnataka and Lakshadweep coasts today and tomorrow. The cyclonic circulation will turn into a low pressure over Myanmar and the East Bay of Bengal in the next few hours.
Last Updated Sep 29, 2023, 9:35 PM IST