Kerala: New KSRTC connection bus started for Vande Bharat passengers in Tirur
Kerala State Road Transport Corporation (KSRTC) will start a connection bus service from Tirur to Malappuram for those arriving by Vande Bharat train. The bus will reach Malappuram via Vailathur and Kottakkal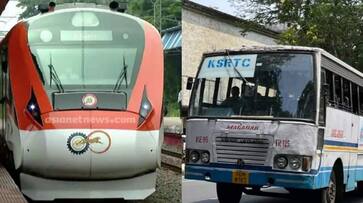 Malappuram: Kerala State Road Transport Corporation (KSRTC) will start a connection bus service from Tirur to Malappuram for those arriving by Vande Bharat train. The bus will reach Malappuram via Vailathur and Kottakkal
The KSRTC has announced that the new service will start from Malappuram from Tuesday (Oct 3). The bus will run the service as per Vande Bharat schedule. This new service is useful for those who need to reach Tirur from Malappuram to take Vande Bharat train.
Timings of KSRTC Bus services:
7.00 PM Manjeri-Tirur
7.00 PM - Manjeri
7.30 PM - Malappuram
8.00 PM - Kottakkal
8.40 PM - Tirur
Return service:
9.00 PM Tirur - Malappuram
9.00 PM - Tirur
9.30 PM - Kottakkal
10.00 PM - Malappuram
For more information related to KSRTC
Malappuram : 0483-2734950/2736240
KSRTC, Control Room 
Mobile - 9447071021
Landline - 0471-2463799
18005994011 Toll Free Number,
Social Media Cell, KSRTC- 
Whatsapp - +919497722205.
 According to the official schedule made available on September 22, train number 20631, which departs Kasaragod for Thiruvananthapuram at 7 am, would arrive at Tirur at 9.22 am. At 8.52 p.m., train number 20632 from Thiruvananthapuram will arrive at Tirur. The first Vande Bharat Express does not halt at Tirur station.
 
Last Updated Oct 3, 2023, 12:56 PM IST