Karnataka HC rejects DyCM DK Shivakumar's plea, orders CBI to conclude unlawful assets probe in 3 months
The Karnataka High Court rejected DCM DK Shivakumar's appeal to quash an FIR related to alleged illegal wealth acquisition, directing the CBI to conclude its investigation within three months. Shivakumar's political aspirations may be hindered, and further legal action is possible.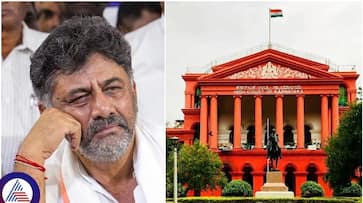 The Karnataka High Court has dismissed DCM DK Shivakumar's appeal to quash the FIR filed against him. The court has directed the Central Bureau of Investigation (CBI) to complete its investigation against DK Shivakumar within three months.
This case revolves around allegations of illegal wealth acquisition between 2014 and 2018. DK Shivakumar, who served as a minister during that period, has faced accusations of accumulating assets unlawfully, with an alleged value of approximately 75 crores.

Karnataka DyCM DK Shivakumar lands in controversy over letter seeking closure of Hubli riot case
The investigation, undertaken by CBI officials from the Bengaluru Division, uncovered assets exceeding 200 crores. Despite the interim stay on the investigation being lifted, the CBI will continue its inquiry, which is now nearing its final stages with a pending charge sheet.
This ruling marks a setback for DK Shivakumar, who has political ambitions including the post of Chief Minister. The Karnataka High Court's decision leaves open the possibility of further legal action, as Shivakumar may choose to challenge the verdict and appeal to the Supreme Court. His response to this order is anticipated after he receives a copy of the judgment.
Last Updated Oct 19, 2023, 11:13 AM IST