Israel-Palestine war: MEA sets up 24-hour control room, issues helpline numbers
In light of the ongoing situation in Israel and Palestine, the Ministry of External Affairs has set up a 24-hour Control Room to monitor the events and provide support.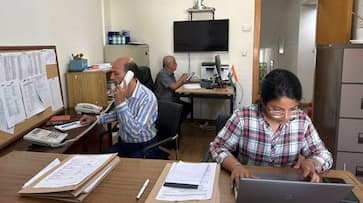 Amid the unfolding events in Israel and Palestine, the External Affairs Ministry has established a 24-hour Control Room to closely monitor the situation and extend support. The Control Room can be reached through the following contact information:
Toll-free: 1800118797
Phone: +91-11 23012113
Phone: +91-11-23014104
Phone: +91-11-23017905
Mobile: +919968291988
Email: situationroom@mea.gov.in
Additionally, the Embassy of India in Tel Aviv has also instituted a 24-hour emergency helpline, accessible via the following details:
Phone: +972-35226748
Mobile: +972-543278392
Email: cons1.telaviv@mea.gov.in
Furthermore, the Representative Office of India in Ramallah has put in place a 24-hour emergency helpline, with the following contact details:
Phone (including WhatsApp): +970-592916418
Email: rep.ramallah@mea.gov.in
Five days after a sudden attack by Palestinian militants on Israel, the death toll has surged dramatically, with thousands losing their lives. In response, Israel has launched a massive shelling campaign in Gaza and has successfully retaken Gaza border areas initially seized by Hamas militants in the Saturday assault. The assault, involving air, land, and sea bombardments, continues.
Meanwhile, government data reveals that there are over 18,000 Indian citizens in Israel, comprising caregivers for the elderly, diamond traders, IT professionals, and students. The Indian embassy in Jerusalem and the Representative Office of India in Palestine have been issuing advisories, urging Indian nationals to remain vigilant and contact their respective offices in case of emergencies, as the conflict between Hamas in the Gaza Strip and Israel escalates into a full-fledged war.
On Saturday, armed individuals affiliated with Hamas conducted a rampage through Israeli communities, leading to casualties and the abduction of numerous hostages. This marked the most lethal outbreak of violence in Israel since the Yom Kippur War five decades ago. This escalation occurs in the context of escalating conflict between Israel and Palestinian militants in the West Bank, an area under Israeli occupation where Palestinian authority holds limited self-governance. This Palestinian authority's stance is in opposition to that of Hamas, which seeks the destruction of Israel.
Last Updated Oct 11, 2023, 4:33 PM IST