ISIS terror suspects wanted to set up base camps in South India, visited Kerala: Sources
After being on the run for several months, Mohammad Shahnawaz, a suspected Islamic State (ISIS) terrorist wanted by the National Investigation Agency (NIA) in connection with the Pune terror module case, was apprehended by the special cell of the Delhi Police.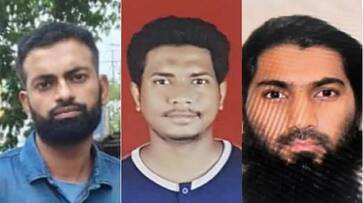 Sensation details are emerging from the interrogation of the three Islamic State-linked terror suspects who were nabbed by the Delhi Police Special Cell during a pan-India operation in coordination with multiple agencies. One critical piece of information that Asianet News Network has learnt is that the suspects had planned to set up base camps in South India. Sources in the Delhi Police Special Cell said that two of three suspects -- Shahnawaz and Rizwan -- had visited Kerala.
According to reports, they travelled to Goa via Pune and then reached Kerala via Udupi in Karnataka and passed through Kasaragod and Kannur forest areas. Their attempt was to establish a hideout in the Western Ghats. 
According to the latest reports, intelligence officials in Kerala held discussions with Delhi police. Preliminary information suggests that the arrested terror suspects are not linked with any terrorist activities in Kerala. Top police sources further said that the suspects visited Kannur as part of an excursion.
The Special Cell explained that an attempt was made to create hideouts in the forest areas of Goa, Karnataka, Kerala and Andhra Pradesh. The interrogation of the three arrested including Shahnawaz is going on. 
Shahnawaz specifically targeted assassinations of prominent politicians. The terrorist group conducted test explosions in a number of states. Police discovered that Shahnawaz targeted political figures in Gandhinagar, Gujarat, and Mumbai. The plan was to carry out explosions along their routes of travel. There were test explosions in Delhi, Rajasthan, and Uttarakhand. The ISI, the spy agency of Pakistan, also planned a number of explosions in Delhi. According to the police, their next step after carrying out the plan was to travel to Afghanistan.  
The National Investigation Agency had placed Shahnawaz aka Shafi Ujjama, on its list of people most wanted. He was taken into custody while hiding out in Delhi. A reward of Rs 3 lakh was offered by the NIA for information leading to his capture. In a car theft case, the Pune police detained him in July of last year. However, he fled from the custody. He and his two terror associates were arrested last night during raids by the NIA, the Delhi Police and Pune Police. The IS connection was revealed in this manner. The organisation, which had been acting covertly, had planned explosions around the nation.
Last Updated Oct 3, 2023, 4:21 PM IST