ISIS Terror Plot: 3 suspects are engineers, expert bomb-makers
Three terror suspects, who were nabbed during a massive crackdown on an ISIS network in Delhi and Uttar Pradesh, are all engineers by education and had expertise in bomb-making. One of those arrested, Mohammad Shahnawaz, was on the National Investigation Agency's most-wanted list.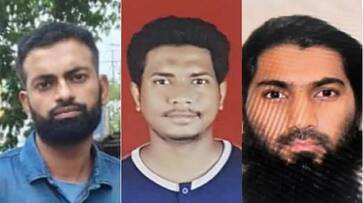 The three terror suspects nabbed by the Delhi Police Special Cell as part of a recent crackdown on the ISIS network in Delhi and Uttar Pradesh, are engineers by education and possess expertise in bomb-making. HGS Dhaliwal, a senior officer from the Delhi Police Special Cell, disclosed to a television news channel that one of the arrested suspects, Mohammad Shahnawaz, had been on the National Investigation Agency's (NIA) most-wanted list. The NIA had offered a cash reward of Rs 3 lakh for information leading to Shahnawaz's capture, as well as two other individuals linked to blasts in various parts of India.
The other two individuals arrested were identified as Shahnawaz's associates, namely Mohammed Rizwan Ashraf and Mohammed Arshad Warsi. Shahnawaz was apprehended in Delhi's Jaitpur, while Rizwan and Ashraf were captured in Lucknow and Moradabad in Uttar Pradesh, respectively.
Dhaliwal emphasized that the ongoing crackdown had exposed the existence of a nationwide ISIS module. Their primary objective was to target prominent figures and cause maximum casualties. Additionally, investigators uncovered the funding sources behind their activities.
During the raids, the police discovered a pistol, bomb-making materials, chemicals, and jihadist literature from Pakistan at Shahnawaz's hideout in Delhi. The three suspects had conducted reconnaissance missions in various regions of the country and had tested explosive devices. 
The three terror suspects maintained contact with their ISIS handler and regularly submitted reports. They had been instructed to procure all necessary items locally to avoid exposing external involvement in their operations.
Shahnawaz hailed from Hazaribagh in Jharkhand and held a degree in mining engineering, providing him with expertise in engineering explosives. His wife, a Hindu by birth who had converted to Islam before their marriage, was currently on the run.
Mohammed Arshad Warsi, originally from Jharkhand, held a BTech degree in Mechanical Engineering from Aligarh University and was pursuing a doctorate at Jamia Millia Islamia in Delhi.
Mohammed Rizwan Ashraf, on the other hand, had a BTech degree in computer science. He was originally from Azamgarh in Uttar Pradesh and had also received training as a cleric.
Who is Shahnawaz, the ISIS terrorist on NIA's most wanted list?
Last Updated Oct 2, 2023, 6:00 PM IST