India-Middle East-Europe Economic Corridor: 'Project is ambitious, market will decide if it will benefit'
This ambitious project aims to connect Europe to Asia through a transnational rail and shipping route, fostering economic integration, enhancing global trade, expanding access to electricity, promoting clean energy distribution, and strengthening telecommunications links.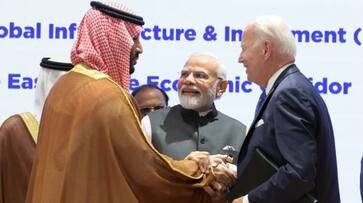 On the sidelines of the recently concluded G20 Leaders' summit in New Delhi, the leaders of the United States, India, Saudi Arabia, the United Arab Emirates, France, Germany, Italy and the European Union announced the India-Middle East-Europe Economic Corridor (IMEC) to usher in a new era of connectivity from Europe to Asia with a railway, linked through ports, connected by the Middle East.
The corridor will serve as interconnections to facilitate global trade, expand reliable access to electricity, facilitate clean energy distribution, and strengthen telecommunications links. The newly-announced economic corridor is a transnational rail and shipping route spread across two continents. It is believed that the IMEC would energize economic development through improved connectivity and economic integration between Asia, the Arabian Gulf and Europe. 
The IMEC will connect two separate corridors -- the eastern corridor connecting India to the Arabian Gulf and the northern corridor connecting the Gulf to Europe. Prime Minister Narendra Modi had said: "This will give the whole world connectivity and development in a sustainable direction. It will drive sustainable development for the entire world."
Asianet Newsable reached out to experts to understand how it would be beneficial for India and whether it is a counter to China's Border Road Initiative (BRI), which has around 150 countries spread across three continents as its part.
Kabir Taneja, a Fellow with the Strategic Studies programme at Observer Research Foundation in Delhi, told Asianet Newsable: "It's a very interesting proposition for the time being at least. However, it is a very ambitious project. The good thing is that a lot of the infrastructure that they are aiming to use is actually already in place. What they need to work out is the policy and getting all the countries that are part of it on the same page when it comes to taxation, money and so on. What I understand from the presentation is that all countries intend to meet within 60 days. On paper, it is a done deal. So wait and watch after the money aspect is discussed."
Is IMEC a counter to China's BRI?
"That, of course, is the perception. It definitely comes off as a counter to the BRI. It is something that feeds into the narrative of the diversification of the supply chain that countries like India and China are championing. However, we have to also remember that countries like the UAE and Saudi Arabia are part of China's BRI. So we have to keep that angle in mind when we are looking at alternatives to the BRI," Kabir Taneja said.
"From the Indian and American point of view, it's definitely a diversification away from China," he added.
According to Dr Abhishek Pratap Singh, an expert on Chinese affairs and faculty at the University of Delhi, "The proposed corridor is a visionary idea to establish a supply chain network across Eurasia. It can serve as an alternative to BRI in the long run based on economic sustainability and scope for development financing for low-growth economies. To India, it aims to stimulate economic partnership and development based on improved connectivity and economic integration between Asia, West Asia and Europe."
It must be noted that China announced the Border Road Initiative in 2013 and mobilized around one trillion dollars for over 3,000 projects. It is expected to be completed by 2049.
Is IMEC a game-changer for India?
"I think it's the market that will decide how beneficial this will be for the countries and that comes down to how these countries are going to basically work together -- let us say it is the most economically viable alternative to Suez Canal, which has been used for years and years now," the ORF fellow said. 
"As an alternative, you know what you are going to opt for. The market is going to decide… it's not because the market doesn't really care beyond the point of what the larger geopolitical designs are. They care about their bottom line. It comes down to economic competitiveness and how it portrays from there," Taneja said.
Also, many believe that New Delhi is looking at this project as an opportunity to push its own infrastructure projects.
Last Updated Sep 15, 2023, 11:23 AM IST