G20 Summit: PM Modi lauds 'productive discussions for better planet'; shares highlights from Day 1 -WATCH
Day 1 of the G20 Summit 2023 saw a remarkable 100 percent consensus on several critical issues, including the Delhi Declaration, the Russia-Ukraine Conflict, the India-Middle East-Europe Economic Corridor, granting Permanent G20 Membership to the African Union and more.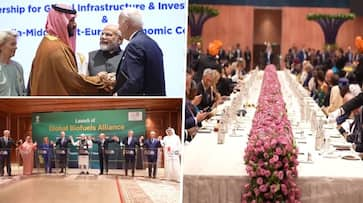 The first day of the G20 Summit 2023, which took place on September 9, marked a historic and successful start under India's G20 Presidency. The day commenced with a warm welcome by Prime Minister Narendra Modi to world leaders and heads of state, concluding with a lavish dinner hosted by India's President Droupadi Murmu. This inaugural day of the international summit, held at Bharat Mandapam in Pragati Maidan, New Delhi, saw a remarkable 100 percent consensus on several critical issues, including the Delhi Declaration, the Russia-Ukraine Conflict, the India-Middle East-Europe Economic Corridor, and granting Permanent G20 Membership to the African Union.
On September 9, 2023, Prime Minister Narendra Modi announced the adoption of the New Delhi G20 Leaders' Declaration. This declaration stood out for its acknowledgment of the profound human suffering and detrimental global impact caused by wars and conflicts. What made it even more historic was its unanimous adoption after around 150 hours of discussions. All 83 paragraphs of the declaration received unanimous approval, even from China and Russia.
Prime Minister Modi remarked, "History has been created with the adoption of the New Delhi Leaders' Declaration. United in consensus and spirit, we pledge to work collaboratively for a better, more prosperous, and harmonious future. My gratitude to all fellow G20 members for their support and cooperation."
Here are the main points of the Declaration:
1. Strong, Sustainable, Balanced And Inclusive Growth:
Addressing the Global Economic Situation
Facilitating Trade for Growth
Preparing for the Future of Work
Promoting Financial Inclusion
Combating Corruption
2. Accelerating Progress On Sustainable Development Goals (SDGs):
Reaffirming Commitment to Achieving SDGs
Eradicating Hunger and Malnutrition
Addressing Macroeconomic Impacts of Food and Energy Insecurity
Strengthening Global Health and Implementing a One Health Approach
Collaborating on Finance-Health Initiatives
Ensuring Quality Education
Harnessing the Transformative Power of Culture for SDGs
3. Green Development Pact For a Sustainable Future:
Addressing Macroeconomic Risks Associated with Climate Change
Promoting Sustainable Lifestyles (LiFE)
Advancing Towards a Circular Economy
Implementing Clean, Sustainable, Just, Affordable, and Inclusive Energy Transitions
Conserving, Protecting, Sustainably Using, and Restoring Ecosystems
Preserving the Ocean-Based Economy
Combating Plastic Pollution
Financing Sustainable Cities
Reducing Disaster Risk and Enhancing Resilient Infrastructure
4. Multilateral Institutions for the 21st Century:
Reinvigorating Multilateralism
Reforming International Financial Institutions
Addressing Global Debt Vulnerabilities
Embracing Technological Transformation and Digital Public Infrastructure
Ensuring Digital Safety, Security, Resilience, and Trust in the Digital Economy
Policy and Regulation on Crypto-Assets
Central Bank Digital Currency
Fostering Digital Ecosystems
Responsible Use of Artificial Intelligence (AI)
5. International Taxation:
Promoting Gender Equality and Empowering Women and Girls
Enhancing Economic and Social Empowerment
Bridging the Gender Digital Divide
Advancing Gender-Inclusive Climate Action
Ensuring Women's Food Security, Nutrition, and Well-Being
Establishment of a Working Group on the Empowerment of Women
6. Financial Sector issues
7. Countering Terrorism and Money Laundering
8. Creating a More Inclusive World
Granting Permanent Membership to the African Union
The first day also witnessed a significant announcement by Prime Minister Modi, declaring the African Union as a permanent member of the G20. This move was welcomed as it aimed to amplify the voices of the Global South within the G20. The Head of the African Union, Azali Assoumani, joined the session following this announcement.
Russia-Ukraine War
Regarding the Russia-Ukraine war, the G20 leaders reached a consensus calling for states to refrain from using force for territorial acquisition and deeming the use of nuclear weapons as 'inadmissible.' While not explicitly naming Russia, this statement signifies a critical stance on the conflict and marks a shift from the Indonesia Declaration of the previous year.
According to the Delhi Declaration, "We call on all states to uphold the principles of international law including territorial integrity and sovereignty, international humanitarian law and the multilateral system that safeguards peace and stability."
In contrast to the G20 Bali Leaders' Declaration of 2022, the New Delhi Declaration refrains from expressing condemnation towards Russia's aggressive actions and the invasion of Ukraine. Furthermore, it characterizes the ongoing conflict in Ukraine as a "war in Ukraine" rather than a "war against Ukraine."
India-Middle East-Europe Economic Corridor
Another noteworthy decision made on the first day was the plan to establish the India-Middle East-Europe Economic Corridor (IMEE EC), seen as a rival to China's Belt and Road Initiative. This initiative aims to enhance economic development through improved connectivity and economic integration between Europe, Asia, and the Middle East, comprising East and Northern corridors.
In addition to this, discussions have taken place regarding an initiative aimed at connecting railways, ports, data networks, hydrogen pipelines, and electricity. This initiative involves collaboration among India, the United States, Saudi Arabia, the United Arab Emirates (UAE), and the European Union, among other participants. U.S. President Joe Biden has referred to this initiative as a "game-changing regional investment."
Global Biofuels Alliance launched
Additionally, India launched the Global Biofuels Alliance, a priority under its G20 Presidency, with the collaboration of leading biofuel producers and consumers such as the United States and Brazil. This alliance seeks to promote clean and affordable biofuels, mirroring the International Solar Alliance (ISA) initiated by India and France in 2015 for solar energy.
The G20 Summit 2023, held at Bharat Mandapam, Pragati Maidan, New Delhi, will conclude on September 10.
Last Updated Sep 10, 2023, 11:07 AM IST