G20 Summit 2023: Chinese Premier Li Qiang arrives in New Delhi amid diplomatic challenges (WATCH)
China's Premier Li Qiang will be part of the G20 Summit 2023 after the President Xi Jinping skipped the mega event set to take place in New Delhi on September 9-10.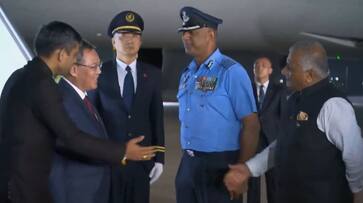 Chinese Premier Li Qiang arrived in New Delhi for the G20 Summit 2023 on Friay, marking his first major international diplomatic test as the relatively lesser-known second-ranked Chinese leader. Li had recently attended the East Asia Summit in Jakarta, but the G-20 presents unique challenges due to its higher profile and the presence of Western leaders critical of China, particularly concerning its stance on the Ukraine crisis, which could disrupt a G20 joint communique for the first time in its history.
Li's visit comes at a time of strained China-India relations, with no formal plans for a structured bilateral meeting between officials from both sides as of Friday evening. However, Prime Minister Narendra Modi and Li will have opportunities for informal interactions on the sidelines of the G20. Substantive discussions on the Line of Actual Control (LAC) situation are unlikely, as Li, unlike previous premiers like Wen Jiabao, primarily handles economic matters, with the premier's office significantly downgraded under President Xi Jinping's leadership.
Ma Jia, the charge d'affaires and acting envoy in the Chinese Embassy in New Delhi, called for both countries to prioritise development as the centerpiece of the international agenda in anticipation of Li's arrival. Beijing has not appointed a permanent ambassador to India for up to 11 months, without providing an explanation.
In the lead-up to the G20, Chinese officials and experts criticized the "politicisation" of the forum, arguing that it should focus on economic issues rather than political crises like Ukraine. President Xi Jinping's absence from the summit, for which no official reason has been given, has been seen as a signal of China's discontent with the West and an effort to avoid Xi facing pressure or isolation in the absence of Russian President Vladimir Putin.
Last Updated Sep 8, 2023, 9:33 PM IST