Fact-Check: Akshay Kumar did NOT support Palestine amid war with Israel
The Fact-Check team has found that Bollywood actor Akshay Kumar has not come in support of Palestine and that the video doing rounds on X, formerly Twitter, is false.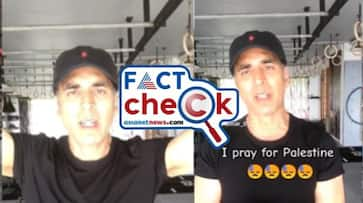 A video is circulating on social media where Bollywood superstar Akshay Kumar is alleged to have expressed his support for Palestine as the Israel-Hamas war continues. Those sharing the video claim that Akshay Kumar's support has come amid solidarity from different parts of the world in support of Gaza. Let's check whether Akshay has come out supporting Palestine as seen in the video.
What is being circulated?
On October 18, 2023, an X user named Hoorain Butt uploaded a two-second video claiming the actor supports Palestine. In the 2-second video, Kumar can be heard saying in Hindi, "This is not right." The note accompanying the video states that Indian Bollywood star Akshay Kumar is expressing his anger against the atrocities committed by Israel in Palestine.
FACT:
The Fact-Check team has come to know that after the death of Bollywood actor Sushant Singh Rajput, Akshay Kumar's reaction video in 2020 is being linked to Palestine with false claims. A clip from the 3-minute 58-second long video released by Akshay through his official Twitter account is being circulated with false claims. The conclusion was reached when the now-viral video frames were subjected to a reverse image search and a three-year-old original video with similar scenes was found. 
In the actual video, the Sooryvanshi actor is not heard mentioning Israel or Palestine. The fact that his new video claiming to support Palestine and his four-minute-long 2020 video have the same clothes, background and movements proves that the two videos are one and the same. 
Conclusion:
It is clear from the fact check that the video of Akshay Kumar circulating now is three years old and the superstar has not publicly expressed his support for Palestine. The claim that Akshay Kumar supported Palestine through the video is false. 
 
Last Updated Oct 26, 2023, 4:10 PM IST