Ecosystem, technology and commuting alternatives hold key to Urban mobility: Chitrajit Chakrabarti
With cities extending job opportunities to masses from rural areas, the need for urban mobility takes priority. You may be thinking what urban mobility is. Chitrajit Chakrabarti explains the future of public travel in detail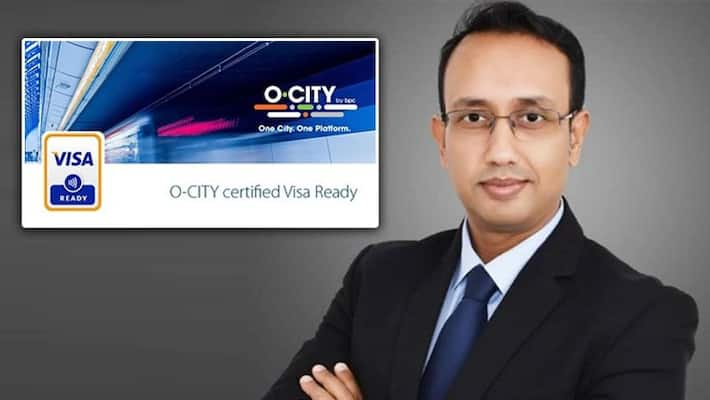 Bengaluru: O-City, smart city division of BPC Global is taking some monumental steps towards increasing efficiency in public transport globally. Its recent tie-up with Visa Ready is another step towards realizing the contactless travel project which has taken the forefront in wake of recent COVID-19 Pandemic.
We spoke to Chitrajit Chakrabarti, head of sales GCC, South East Asia, India, BPC Banking Technologies on the future of public travel and its digitization in India.
Q: How important is it today to make urban mobility a priority?
Chitrajit: Cities are constantly on the move. We continue to experience an exodus from rural areas as people seek job opportunities in big cities, affecting the existing transport infrastructure. At this pace, it is estimated that 60% of the world's population will live in cities by 2030. Cities will become more populated with a growing middle class investing in automobiles, which will create more traffic congestion and higher pollution levels. The existing urban infrastructure cannot support such an increase in vehicles, which is why governments have placed urban mobility at the top of their agenda. New business models are being experimented with and new technologies are emerging to keep cities attractive and ensure the well-being of their population. Many industries have gone through their digital transformation; now it is time for cities to follow suit. In this regard I would highlight that as a responsibility.
Q: What are some of the key factors that policymakers, government authorities and companies have to keep in mind to make urban mobility seamless and smooth?
Chitrajit: There are three key factors to consider when improving urban mobility.
Firstly, the ecosystem. Private and public agencies need to provide a unified multimodal seamless experience across the city. Solving the mobility challenge is no longer the sole responsibility of transport operators. Policy makers need to drive this collaboration among all ecosystem players. Urban mobility needs to be a collaborative mission.
Secondly, technology. Advances in technology have generated a tremendous opportunity to rethink how people get around cities. Technology can optimize traffic while providing a superior experience to commuters who can plan their journey using their mobile. Cities are digitizing their public transit systems with the payment function at the core, eliminating the need to queue or to invest in expensive infrastructure. Open-loop technology that uses existing contactless card, QR code, and facial payments is rapidly changing the way we move across cities, faster and in control.
And third, commuting alternatives. Multi modes means a well-connected network between train, metro, bus, and tramway but also the availability of shared rides and other on-demand mobility services which will expand as our behaviours change, increasing choice and convenience.
Q: How has India's progress been so far in the transportation space?
Chitrajit: At the current pace of urbanisation, India needs to shift to public transport. With the election of Prime Minister Narendra Modi in 2014, urban-led economic growth in India was firmly framed around a vision of 'Smart Cities'. The federal government of India launched flagship programmes for over a hundred Smart Cities and an urban transformation program for five hundred cities with a population of 100,000 or more with subsequent funding. The modernisation of infrastructure is well under way. New transport modes are being developed. Since the success of the Delhi Metro, many Indian cities are exploring the option of implementing metro rail networks. Today, India is reforming its transit system, with major investments in infrastructure, state-level urban transport policies and capacity building in states such as Gujarat, Maharashtra, and Tamil Nadu. The objective is to promote greener cities and respond to the growing needs of the population. Exciting times are ahead for India's urban mobility.
Q: What are the challenges you foresee in making urban transit systems digital? How is O-City going to tackle these challenges?
Chitrajit:  From a technical point of view, the biggest challenge is the absence of an open loop platform in many of the state government run transport services. When we talk about offering flexibility to all tiers of the pyramid we need to think about an open loop payment ecosystem which can empower the end clients to complete a particular transaction using any of his/her payment instruments, like – credit or debit card being issued by any banks, wallets, proximity payments etc O-City offers an end to end comprehensive Open loop payment platform which join hands with various payment networks to offer the desired flexibility to the end clients.
The digital transformation of urban transit is more than a matter of technology; it represents a cultural shift. As both a technology firm and an operator, we understand that public and private agencies will need to educate their users as well as their employees such as bus drivers to ensure this shift towards a cashless experience. India's shift to demonetization has prepared the population to use digital payment methods for all daily needs. Another challenge is to ensure a collaborative approach. Cities cannot be smart if not well coordinated, which is why the state has a critical role to play. Interoperability across the entire network is the key to success. With COVID-19 prompting us to rethink urban mobility and city planning, the mass transit market will see an accelerating shift towards digitalization.
Q: What is O-City's vision for mobility, five years down the road?
Chitrajit: We believe in smart, digital, connected cities where citizens can openly move and live at the touch of a button, a tap or a swipe, without the need for cash – an experience where journey planning, digital ticketing and the payment components of public transports will be embedded in your daily life, powered by your mobile. We also think that mobility will no longer remain urban. It is about connecting the last mile, making connections between urban and rural, cities and regions and beyond. This is why we support smaller cities and equip them with the best technology to raise the level of service for their population. The technology does exist and can empower new experiences. Super apps are entering the mobility market and the open API configuration will make it possible to talk to any other systems. Mobility will be a component of an ecosystem of services, all managed through one app. Beyond, a social component is essential, as the power of data makes it possible to adapt pricing and exemption based on your profile. Predictive analytics and intelligence will certainly further transform the mobility journey experience.
Last Updated Jul 8, 2020, 2:28 PM IST