DUSU polls: ABVP wins three seats, NSUI bags Vice President post
DUSU Election Results 2023: After the completion of counting of votes for 22 rounds in DUSU election, ABVP won on three seats-- President, Secretary, Joint Secretary, while NSUI won the Vice-President seat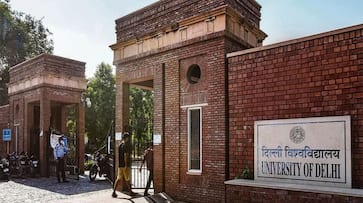 After the completion of counting of votes for 22 rounds in DUSU election, ABVP won on three seats-- President, Secretary, Joint Secretary, while NSUI won the Vice-President seat. At least Twenty-four candidates were in the fray for the elections. The voting on Friday began at 9 am in DU colleges.
ABVP's Tushar Dedha won the post of DUSU President, defeating the National Students Union (NSUI) candidate Hitesh Gulia. Aparajita of ABVP has been elected as Secretary of the Students' Union while Sachin Baisla has been elected as the Joint Secretary. Meanwhile, the NSUI candidate Abhi Dahiya won the post of Vice President.
The DUSU elections were last held in 2019. The polls could not be held in 2020 and 2021 due to COVID-19 while possible disruptions to the academic calendar prevented their conduct in 2022. Chander Shekhar -- the chief election officer for the polls -- said the university recorded a voter turnout of 42 per cent.
Although the turnout was better than in 2019, when a total of 39.90% was reported, it fell short of exceeding the almost 11-year-high level of 2018. In 2018 and 2017, the turnouts were 44.46 and 42.8 percent, respectively.
EVMs were used to conduct the central panel elections at 52 colleges and departments, whereas paper ballots were used for the college union elections. The main concerns for students included fee increases, a lack of affordable housing, increased security at campus festivals, and menstruation leaves.
A total of 24 candidates from various student union groups including Akhil Bharatiya Vidyarthi Parishad (ABVP), All India Students Association (AISA), Students Federation of India (SFI) and National Students Union of India (NSUI) were in the fray
Last Updated Sep 23, 2023, 6:14 PM IST