Chandrayaan-3: Moon Lander records 'event, appears to be natural one', says ISRO
The Instrument of Lunar Seismic Activity payload on Chandrayaan-3's Lander Vikram recorded a natural event that occurred on the Moon's surface on August 26, the source of which is still under investigation, the space agency said.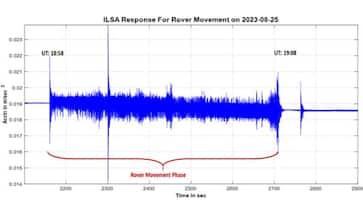 The Indian Space Research Organisation (ISRO) said on Thursday that the Vikram lander on Chandrayaan-3 has discovered a "natural" seismic event on the Moon. The rover and other payloads' motions have been recorded by one lander payload, the Instrument for the Lunar Seismic Activity (ILSA), according to the space agency. 
"Additionally, it has recorded an event, appearing to be a natural one, on August 26, 2023," ISRO said, adding that the source of this event is under investigation.
According to the ISRO, the main goal of ILSA is to monitor the ground vibrations brought on by natural quakes, collisions, and man-made events. According to the space agency, who shared a graph on X, previously known as Twitter, the graphic shows the vibrations that were observed during the rover's navigation on August 25. Additionally, a seemingly natural incident that happened on August 26, 2023, is also depicted.
Earlier in the day, the space agency said that lander payload RAMBHA-LP has made first-ever measurements of the near-surface Lunar plasma environment over the south polar region. 
In another update, the ISRO said that one rover payload - Alpha Particle X-ray Spectrometer (APXS) - is trying to find out the elemental composition of soil and rocks on the Moon. The space agency said that in addition to the key predicted elements like aluminium, silicon, calcium, and iron, the APXS measurements had found the existence of fascinating minor elements, including sulphur. 
 
Last Updated Sep 1, 2023, 9:42 AM IST