'Bridge collapse' puts Bihar CM in soup; opposition says structure fell 29 days after inauguration

Barely a month after inauguration of Bihar's Sattarghat bridge on Gandak river worth Rs 263.47 crore, shoddy work was apparently exposed as the bridge battered by rain collapsed. All eyes turned red towards chief minister Nitish Kumar, with the opposition demanding the contractor be blacklisted.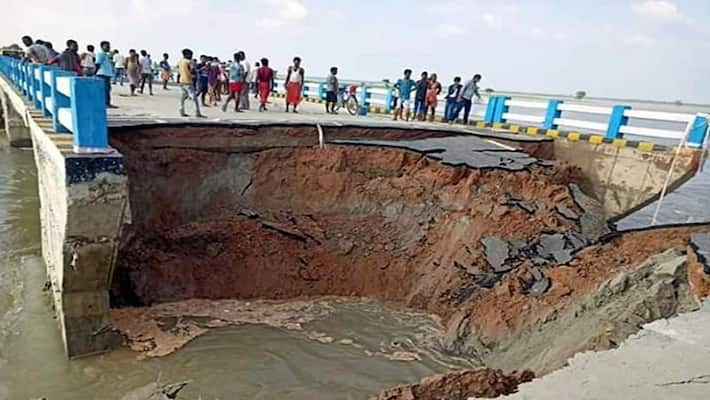 Months ahead of the election, Bihar CM Nitesh Kumar came under attack from the opposition after a Rs 264 crore worth bridge collapsed. The irony is that this bridge was inaugurated by CM Nitesh on June 16. Within a month the bridge allegedly came crashing down.
The bridge was inaugurated by the CM with much fanfare to highlight achievements, considering elections are round the corner. However, rains have made his efforts turn out to be a damp squib, in the eyes of the opposition to say the least.
With the structure collapse, the connectivity to Muzaffarpur and Motihar has been impacted. The opposition took the opportunity to criticise Nitesh, along with asking the CM to blacklist the contractor.
As per reports, Opposition leader and possible CM candidate from RJD, Tejashwi Yadav was quoted as saying, "Bhishma Pitamah of organised corruption, Nitish ji, will neither say a word on this nor will he sack the corrupt Minister of Construction. Loot has been going on all around Bihar."
However, in defence of JDU party and CM Nitesh, Bihar Road Construction minister Nand Kishore Yadav said, the approach slab that has collapsed is 2 km away from main Sattarghat Bridge.
 "No damages have been caused to any bridge. The approach slab of a minor bridge has collapsed", Minister Yadav was quoted by a news report.
Last Updated Jul 17, 2020, 8:30 PM IST