Centre confirms Nipah virus traces found in Kerala's Kozhikode
The samples that were sent for testing following the death of two in Kozhikode have turned out to be positive for the Nipah virus. The district has been put on high alert.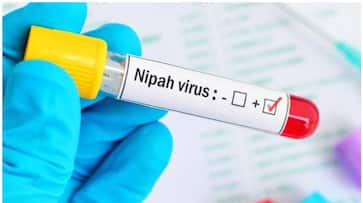 Kozhikode: Union Health Minister Mansukh Mandaviya on Tuesday (Sep 12) confirmed that the two deaths reported in Kozhikode district were due to the Nipah virus. The declaration was made while the state awaited confirmation from the National Institute of Virology in Pune Institute on samples supplied for testing of one of the deceased and four of his kin.
One of the deceased died on August 30 while the other person succumbed to fever on Monday night. 
A central team will be sent to the state to assess the situation. The samples of the person who died yesterday were sent to NIV in Pune. At the same time, the test results of four more people are yet to be received. The Kerala government established a control centre in Kozhikode on Tuesday and suggested that people wear masks as a precaution. Following the report of two "unnatural deaths" in the district on the last day, the state government sent five samples to the NIV in Pune for Nipah virus testing.
State Health Minister Veena George presided over a high-level meeting earlier in the day to assess the situation as she arrived in the district. She claimed that the government was taking every preventative measure in case the test results revealed the Nipah virus. The health department established 16 key committees today, including ones for contact tracing, patient transportation management, sample test and research management, and surveillance. Four of the first deceased person's relatives are currently receiving care at hospitals, the minister said, adding that the entire district's health infrastructure is on alert.
In May 2018, the Nipah virus broke out for the first time in South India, wreaking havoc in Kerala. The epidemic in the districts of Kozhikode and Malappuram claimed a total of 17 fatalities.
Also read: Kerala: Two deaths in Kozhikode spark Nipah virus concerns
Last Updated Sep 12, 2023, 6:12 PM IST