Brazen calls for ban on RSS in Canada, threats to Indo-Canadian Hindus... Trudeau claims embolden Khalistanis
Sikh extremists have been emboldened, leading to calls for banning the Rashtriya Swayamsevak Sangh (RSS) in Canada, expelling diplomats, and halting economic trade negotiations with India. Additionally, threats have been issued to Indo-Canadian Hindus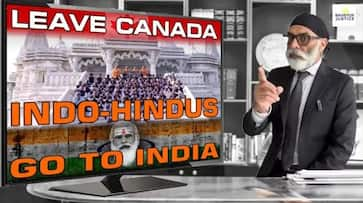 Canadian Prime Minister Justin Trudeau's outlandish claim about 'agents of the Indian government' being behind the killing of Canada-based fugitive Khalistani 'terrorist' Hardeep Singh Nijjar has emboldened the Sikh extremists based in his country. Following Trudeau's statement in the Canadian Parliament, statements have been issued seeking a ban on the Rashtriya Swayamsevak Sangh in Canada, expelling the diplomats, ceasing economic trade negotiations with India, and even threats to Indo-Canadian Hindus to leave the country.
Videos emerged on social media platforms showing Stephen Brown, National Council of Canadian Muslims CEO, telling a Canadian media outlet, "Indian government is not a liberal democracy. This is a government where its officials have been persecuting minorities for a very long time, and we see this persecution happening in Canada as well. The Canadian government's primary objective is to protect its citizens. Diplomats have been expelled for less in the past. How can you have a relationship with a government that is killing your citizens in Canada? The Canadian government did not think that Nijjar was a terrorist. So why are we constantly questioning what India thinks about it." 
He further goes on to say, "This is an attempt to detract from the crimes that are being committed against minorities, both in India and now in Canada. So the government of Canada needs to do everything in its power to protect Canadian citizens. That starts with banning the RSS (Rashtriya Swayamsevak Sangh) in Canada, expelling the diplomats and recalling ours, and also ceasing economic trade negotiations with India."
He repeated the demands at a press briefing later.
Yet another Khalistani terrorist, Gurpatwant Singh Pannun, has issued a threat targeting Indo-Canadian Hindus, urging them to leave the country. In a video, seemingly filmed in Canada, Pannun also calls upon pro-Khalistan protesters to gather in Vancouver for a Referendum scheduled for October 29. This Referendum will inquire whether High Commissioner Sanjay Verma was responsible for the alleged "assassination" of Nijjar.
Vijay Jain, spokesperson for Canadian Hindus for Harmony, expressed deep concern over Pannun's threatening message, stating, "We are witnessing widespread Hinduphobia on multiple fronts."
Vandalism linked to the so-called Khalistan Referendum in Canada has been attributed to numerous cases of temple desecration, involving graffiti and anti-India posters. A petition is currently pending before the Canadian House of Commons, seeking the recognition of Hinduphobia in the glossary of terms within the Human Rights Code to address anti-Hindu prejudice and discrimination. This petition has garnered nearly 9000 signatures thus far.
Jain voiced apprehension that Prime Minister Trudeau's remarks regarding India's alleged involvement in Nijjar's killing could exacerbate tensions. He stated, "We fear that this could lead to a situation similar to the loss of Canadian Hindu lives, as occurred in 1985."
Jain's reference is to the tragic Khalistani bombing of Air India Flight 182, en route from Montreal to London, Delhi, and Bombay, in June 1985. This horrendous act claimed the lives of 307 passengers and 22 crew members, making it the deadliest terrorist attack in Canadian history. Canada annually observes the National Day of Remembrance for Victims of Terrorism on June 23, in memory of those who perished in this tragic event.
Last Updated Sep 20, 2023, 1:23 PM IST