BJP's Suvendu Adhikari takes on 'Frequent Flyer' whose golden period began after 2014: who is he referring to?
BJP leader Suvendu Adhikari questions a prominent public representative's extensive foreign travels, suggesting possible financial impropriety and highlighting a contrast in their travel experiences.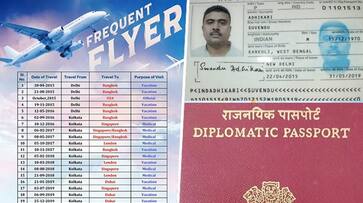 In a recent social media post, Suvendu Adhikari, Leader of the Opposition in West Bengal, has raised questions about the overseas travels of a prominent public representative who, in his opinion, has not sufficiently connected with the grassroots level of their constituency despite nearly a decade in public life. Adhikari points out that these frequent foreign visits were a rarity before 2014 and were virtually non-existent before 2011.
Adhikari refers to a "Golden Period" that began in 2014 when, according to him, the public representative recognized the utility of moving unaccounted funds to foreign locations. This insinuation raises concerns about the source and purpose of these funds, hinting at possible financial impropriety.
"A High Flying Public Representative, who still hasn't been able to touch base with public in general at the grassroot level of his Constituency, even after almost a decade in public life, has been frequently flying to foreign locations. Incidentally, such visits were rare before 2014 and definitely didn't happen before 2011. The Golden Period started after 2014 when the realization dawned upon him that unaccounted money had to be moved, and what better than parking it at foreign locations," wrote the BJP leader on X.
Adhikari also highlights his own situation, emphasizing that despite holding a Diplomatic Passport since 2009, he has been unable to utilize it due to the absence of a Visa Stamp. This underscores the contrast between his own restrained travel and the extensive foreign trips of the other public representative in question.
The post concludes with a suggestion that the high-flying frequent flyer may soon face restrictions on their travel, hinting at potential legal consequences or public backlash for their actions.
"On the other hand, even after having the privilege of holding a Diplomatic Passport, because I was an MP since 2009, could never managed to use it. Even now one key element is still missing on my Passport; a Visa Stamp. I have heard on the grapevine that the High Flying frequent flyer is nervous that he would soon be GROUNDED," Adhikari added.
Last Updated Sep 24, 2023, 10:42 AM IST